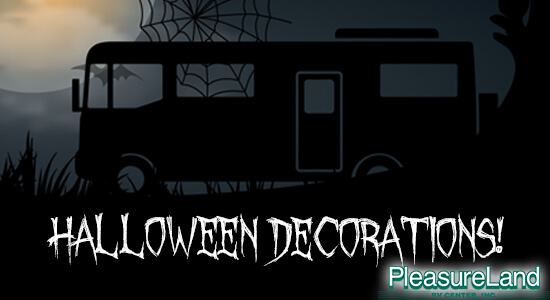 Traveling in an RV doesn't mean you have to miss out on your favorite holiday traditions. In fact, many RV parks and campgrounds have trick-or-treaters and planned festivities for Halloween. Get your RV Halloween-ready with these creative do-it-yourself decoration ideas.
Scary Glowing Eyes
All you need are a few cardboard toilet paper rolls, glow sticks and a pair of scissors to create these cute but spooky glowing eyes. Simply cut different eye shapes into one side of the toilet paper roll, insert a glow stick into each roll and hide them in the bushes or trees outside of your RV.
Halloween Silhouette Lamp Shades
Turn the lamps inside your RV into spooky decorations with a few pieces of construction paper, tape and a pair of scissors. Cut spooky shapes, like ghosts and bats, out of the construction paper and tape them to the inside of your lampshades. Turn all of the other lights off at night, and you'll enjoy your cost-effective and easy-to-make decorations. If you don't want to tape anything to your current lampshades, purchase a set of lampshades and glue the decorations to the inside instead.
Ghost Lights for Inside or Out
Forget about buying costly strings of Halloween lights that you'll only use a few months out of the year. This spooky ghost light garland is easy to make and can be hung inside or out (just bring it inside if it rains).
Purchase a strand or two of white lantern lights and cover them with a light white fabric. Use a rubber band to tighten the fabric around the light, so the bottom of the fabric hangs down. Draw dots for the eyes and mouth on each piece of fabric, and you'll be amazed at how cute your spooky ghost lights turn out.
Upgrade Your RV at PleasureLand
There's no better time to find an incredible deal on a new or used RV than right now at the PleasureLand RV Center in Minnesota. Stop and see us at one of our many locations before you hit the road this fall.