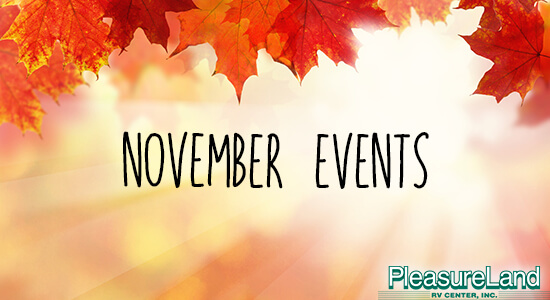 The weather may be cooling down, but the holiday season events are just starting to heat up in St. Cloud. With everything from comedy to concerts, film festivals and special events, there's always something to do in the St. Cloud area.
Fire up your RV and head into town for these unbeatable St. Cloud events this month.
2015 St. Cloud Film Festival
The annual St. Cloud Film Festival kicks off on Nov. 7, and continues through Nov. 13, this year. The festival will include screenings of more than 50 local, regional, national and international films at a number of venues around the city. Whether you're into comedies, animation, shorts, documentaries or feature films, you're guaranteed to find a number of new favorites at this year's event.
Sweet Sounds by WindSync
If you haven't seen the WindSync quintet in action yet, Nov. 17, is the day to do it. This mind-blowing wind quartet is quickly becoming known as one of North America's best, and St. Cloud residents and visitors will have a chance to see them live at the Whitney Senior Center's Clemens Hall. The show starts at 2:30 p.m., and tickets can be purchased in advance for $10 from the Whitney Senior Center.
Christmas at the Mansions
End the month of November in the holiday spirit in nearby Little Falls. The Christmas at the Mansions event wil be held daily from Nov. 30 to Dec. 6, with self-guided tours of the festively decorated Weyerhaeuser and Musser mansions. The mansions will be open from 1 p.m. to 7 p.m., on Monday, Nov. 30. Admission is just $12 for adults, and children under the age of 12 get in free.
Start Your Holiday Shopping
It's never too early to start your holiday shopping. Find all of the best gifts for the RV lovers in your life right here at the PleasureLand RV Center in St. Cloud, Ramsey, Brainerd and Long Prairie.