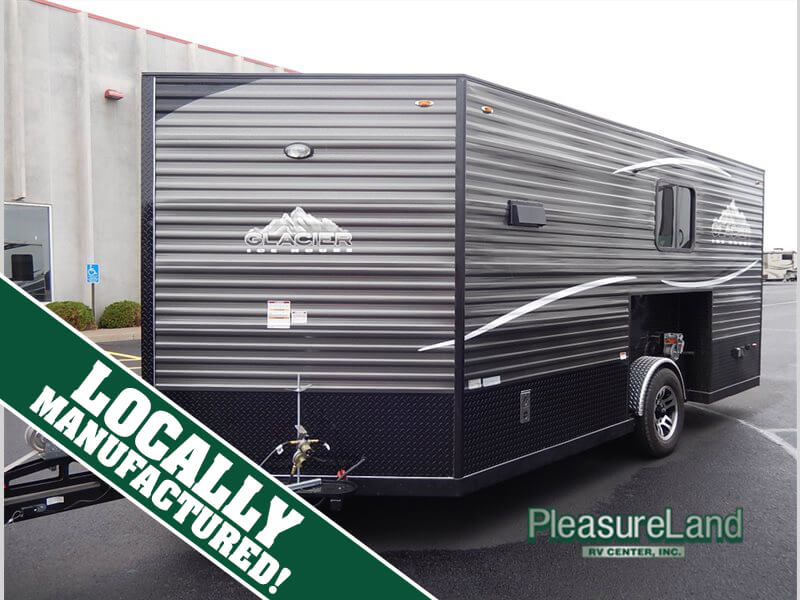 Ice fishing isn't the most comfortable winter activity. It often means long, cold days on the ice waiting for a bite. However, you don't have to bundle up in a small hut or try to warm yourself by your friend's fire this upcoming season. The 2016 Glacier LLC Glacier A816RD is the cream of the crop of ice houses — one that will keep you warm and comfortable while you reel in dinner.
2016 Glacier Ice House Features
Glacier ice houses offer more comforts and conveniences than you ever imagined on the ice. Travelers enjoy interior conveniences like LED interior lighting, contemporary interior decors, dual pane windows, a "big man's" dinette, an easy-to-clean wood plank rubber floor, a three-burner range, prepping for cable TV, wiring for a fish camera to the TV and an AM/FM stereo to make every day on the ice a comfortable and enjoyable one.
Additional interior options include a 32-inch smart TV, a microwave oven, flat wall fireplace, an RV refrigerator, a queen lift bed, curtains or an extra cabinet set to make camping on the ice even more comfortable and convenient.
An RV That's Easy to Tow and Set Up
You don't want to waste precious fishing hours preparing your RV at your secret spot. The Glacier ice house is remarkably easy to tow and even easier to set up at the campsite. When you purchase a 2016 Glacier ice house, you enjoy the convenience of electric stabilizer jacks, an enclosed battery box, an outdoor flood light, EZ lube axles, multi-leaf suspension, R26 insulation, a trussed roof, a tan fiberglass exterior, LED hole lights and countless other features that make ice fishing more enjoyable than you ever imagined.
Improve Your Ice Fishing Today
You'll enjoy spending more time on the ice, and ultimately catch more fish, in the comfort and convenience of a brand-new Glacier ice house. The Glacier A816RD model, available right here at the PleasureLand RV Center, features a convenient kitchen and comfortable seating and sleeping spaces to help you enjoy ice fishing more than ever before.