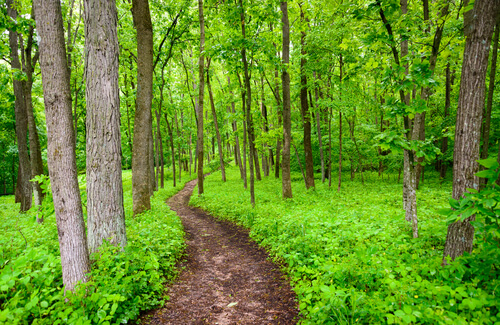 The Midwest is one of America's most underrated regions. Lakes, vast forests, rivers, sand dunes and so many other natural wonders await those who venture to the Great Lakes states and beyond. The following are the top 10 campsites you'll find in this must-visit neck of the woods.
1. Wilderness State Park Campground — Carp Lake, Michigan
Enjoy 26 miles of rocky shoreline, stargazing, 20 miles of hiking trails and more at this lakeside Michigan campground.
2. Eugene T. Mahoney State Park — Ashland, Nebraska
Non-stop family fun is on tap at the Eugene T. Mahoney State Park, which features nearly 150 RV sites and a water park with a wave pool, slides and more.
3. Johnson's Shut-Ins State Park Campground — Middlebrook, Missouri
Camp at the foot of Goggins Mountain and spend your days swimming in the shut-ins formed by the Black River.
4. Hocking Hills State Park — Laurelville, Ohio
Discover caves, gorges and waterfalls just a short hike from the comfort of your RV.
5. Brown County State Park — Nashville, Indiana
Indiana's largest state park is littered fishing spots, hiking trails and areas to swim, bike play.
6. Hayward KOA — Hayward, Wisconsin
Let the kids run wild on the 300-foot waterslide, mini golf course, playgrounds and more.
7. Peninsula State Park — Door County, Wisconsin
This park's 468 campgrounds are seconds from beautiful bluffs, a lighthouse, the beach, bike trails and a golf course.
8. Indiana Dunes State park — Chesterton, Indiana
The sand dunes are the main attraction to this fun-filled state park, but campers also enjoy hiking trails, birdwatching and more.
9. Blue Bell Campground — Custer, South Dakota
This Custer State Park campground is known for its nearby rock formations, vistas, brooks and buffalo.
10. Grand Marais Recreation Area — Grand Marais, Minnesota
The Lake Superior shoreline, quaint shops and delicious dining options are at your doorstep.
Visit PleasureLand RV Center
Don't forget to stop in and see us at PleasureLand RV Center when you're cruising throughout the Midwest in your RV this spring and summer.