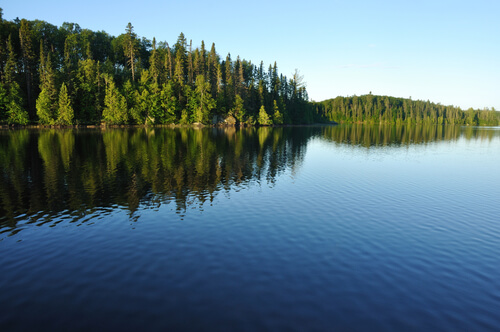 Summer at Hayes Lake State Park is quite an experience. Wild orchids, gentians, and blueberries are abundant, over 200 species of birds are summering in or around the park, and the water is cool and refreshing.
The lake is suitable for swimming and canoeing. Fishing opportunities abound, and you can expect a chance to catch crappie, sunfish, and large mouth bass. There are also plenty of trails for hiking and horseback riding.
Wildlife enthusiasts might be able to spot black bears, moose, otters, bobcats, pine martins, lynx, and timber wolves. More common animals to see are deer, fox, raccoons, porcupines, beavers, minks, and skunks.
The lake was formed in 1967 by damming the nearby river. Both the lake and park were named after A.F. Hayes, an early settler of the land now included in the park and an advocate of the creations of the lake.
The park sprawls over 2,966 acres and has nearly 40,000 annual visitors.
Visit PleasureLand RV Center
Stop by PleasureLand RV Center this summer before you head to Hayes Lake State Park or any other destination. If you need an RV for your travels, shop the inventory of PleasureLand RV Center and tour the units you wish to see. If you've got a rig and just want to ensure that it's ready for the trip, visit our service department.