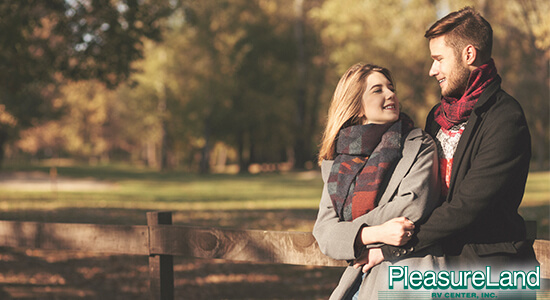 You don't have to buy costly plane tickets and pay outrageous resort accommodation prices to enjoy a romantic getaway with your special someone this Valentine's Day. The U.S. is littered with romantic destinations that can be visited in the comfort, convenience and affordability of your RV.
Fire up your home on wheels and cruise throughout the country to one of these three must-visit Valentine's Day destinations.
Charleston, South Carolina
It's no wonder that Travel and Leisure named Charleston the No. 1 most romantic city in America. The historic town, located minutes from some of the East Coast's most pristine beaches, offers cobblestone streets lined with oak trees, horse-drawn carriages and enough historic architecture to fill hours of exploration. Charleston is also home to some of the most critically-acclaimed restaurants and rooftop bars in the country, so you'll have no shortage of places to enjoy a romantic dinner and drinks.
Chicago, Illinois
City lovers can't help but feel the romance when walking on Chicago's streets in winter. Whether you and your lover are interested in fine dining, shopping, theater or nightlife, you'll feel Chicago's charm when you walk among the skyscrapers just steps from the pristine shores of Lake Michigan. The Chicago area is also home to a large number of family-owned RV parks and campgrounds that make an ideal, and affordable, home base for city excursions.
Sedona, Arizona
If you haven't escaped the cold to explore Sedona yet, Valentine's Day is the perfect time. This cozy Arizona getaway is loaded with RV resorts, spas, world-renowned restaurants, shopping and more outdoor adventures than you can cram into one vacation. Even more, Sedona's desert sunsets are famous for being some of the most mesmerizing in the country.
Visit PleasureLand Before You Go
Don't forget to stop by one of the PleasureLand RV Centers, located throughout Minnesota, to ensure your RV is in top condition before you hit the road for your romantic getaway.