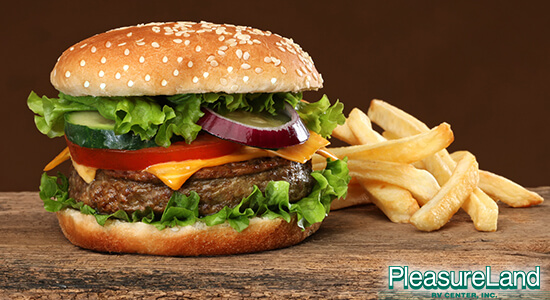 Every May is National Hamburger Month, and that means it's time to fire up at that grill at the campsite. However, instead of using that same old, boring hamburger recipe you've been using for years, consider trying something new this year. This recipe for tangy meatloaf burgers is the only one you need to wow your friends and family this May and all summer long.
Tangy Meatloaf Burgers
What you'll need:
1 small onion (1/2 onion sliced into rings and 1/2 onion diced)
1 pound meatloaf mix (ground pork, veal and beef) or ground turkey if desired
1/2 cup breadcrumbs
1/4 cup fresh parsley
1 large egg
1/3 cup ketchup
1 teaspoon smoked paprika
1/3 cup duck sauce
1 tablespoon extra-virgin olive oil
Kosher salt and black pepper
Lettuce, sliced tomato, pickle slices for topping
4 potato buns (split)
Sweet potato chips (on side)
Grilling instructions:
Preheat your grill to medium-high heat. Soak the onion rings in cold water.
While soaking the onions, combine the meatloaf mix with the diced onion, breadcrumbs, egg, paprika and parsley. Mix in 1 tablespoon of ketchup, 1 tablespoon duck sauce, 1 teaspoon salt and 1/2 teaspoon pepper.
Form the meat into four 1-inch-thick burger patties. Make an indentation in the center of each burger.
Brush the burgers with olive oil and grill until you see grill marks on the bottom (about 6 minutes).
Mix the remaining duck sauce and ketchup together in a small bowl for brushing, then set a few tablespoons aside.
Turn the patties and brush them with the mixture. Cook for 5 more minutes or until cooked through. Toast the buns.
Spread the remaining ketchup mixture on the buns. Drain the onion rings, and serve the burgers on the buns. Top them with onion, lettuce, tomato and pickles.
Serve with sweet potato chips on the side.
Shop for your dream RV for the summer of 2016 right here at the PleasureLand RV Centers throughout Minnesota.