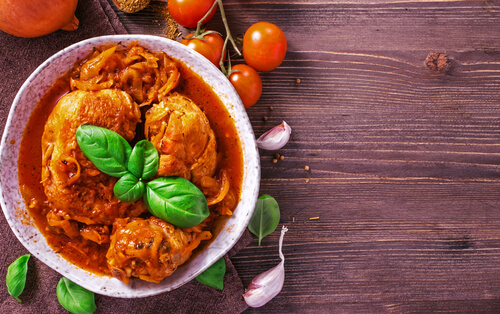 As the temperatures start to drop this September, warm family meals become a part of the RV lifestyle. These simple fall meals can be made in your RV kitchen, on a grill or even over the open flame. So light up that campfire and start enjoying all of the pleasures and delicious flavors that the fall RV season has to offer.
Campfire Chicken Stew
What You'll Need:
1 fryer chicken (cut up)
4 medium potatoes (peeled and sliced)
1 cup carrots (thinly sliced)
1 green pepper (sliced)
1 can condensed cream of mushroom soup (no water added)
1/4 cup water
1/4 teaspoon pepper
1/2 teaspoon salt
Aluminum foil
Cooking Instructions:
Grill the chicken pieces for roughly three minutes on each side.
Lay down for sheets of double thickness aluminum foil, and divide the chicken, carrots, potatoes and green pepper onto each piece of foil.
Fold the foil into a packet, then pour the soup, water, salt and pepper evenly into each one.
Seal each packet tightly and grill them for 20-25 minutes until the chicken is thoroughly cooked.
Campfire Reubens
What You'll Need:
1 cup Thousand Island dressing
3/4-pound deli-sliced corned beef
1/2-pound Swiss cheese slices
1 cup sauerkraut
8 slices pumpernickel bread
Aluminum foil
Cooking Instructions:
Cut four squares of aluminum foil, then set two slices of bread next to each other on each piece.
Spread Thousand Island dressing evenly on each slice of bread.
Divide the meat, cheese and sauerkraut evenly onto one slice on each piece of foil.
Top the sandwich with the other slice of bread and seal the foil around each sandwich.
Set each packet on a grate over the fire (or the grill) and cook them for about 30 minutes. Flip each sandwich over every ten minutes.
Unwrap and enjoy.
Get Your RV Cooking Supplies at PleasureLand
Whether you're looking for a new RV with a larger kitchen or just a few simple grilling supplies for your next outdoor adventure, we've got everything you need right here at PleasureLand RV Center in Minnesota. And if you need some supplies right away, don't forget you can shop our online parts catalog 24 hours a day, seven days a week.