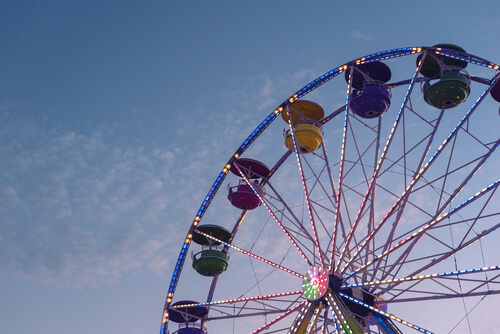 The Minnesota State Fair is one of the state's biggest annual events and certainly one of the most fun. Great for families of all sizes and people of all ages, don't miss out on heading there in your RV later this month.
The State Fair will be open from August 24 to September 4 this year, so fire up your RV and hit the road!
The Food
As anyone who's attended a State Fair, no matter the state, can attest, they're all about the food (especially the fried variety) and Minnesota is no exception. Each year sees zanier and tastier fried food delicacies. 2017 brings some interesting new additions, such as the Bacon Fluffernutter, Bacon Up Pup, Bowl o'Dough, Breakfast Buddy Bowl, Brown Ale and Onion-Gouda Tipsy Pie, Cheesy Nacho Corn on the Cob, Cherry Bombs, Chocolate Popover with Peanut Butter Spread, Cranberry Wild Rice Meatballs, Deep Fried Avocado, Deviation Stout Steak Taco Naan, Double Dose of Pork Belly Sandwich, Duck Bacon Wontons, Fall Guy Breakfast Panini, Honey Puffs, Italian Bomba Sandwich, Memphis Totchos, Mini Sconuts, Mobster's Caviar, Pie'n the Sky Malt & Sundae, Pizzarito, Slow-Roasted Pork Mole Tamale, Sonoran Sausage, Spicy Thai Noodles, Sweet Corn Blueberry Eclairs, Sweety's Churros, Swine & Spuds, Swing Dancer Sandwich, Triple Truffle Trotters, and Wild Bill's Breakfast Bake. And that's not even all! Make sure to come hungry.
The Entertainment

There are plenty of musical acts happening everyday, most of them free of charge and open to the public. The big headliner this year, however, is Usher, who will be performing August 31 at 7:30pm. Tickets are needed to see Usher, so buy yours here as soon as possible.
There are also exhibits and demos throughout the fair grounds.
The Rides
Don't forget to hit up some rides along the Midway (which also includes classic carnival games and prizes). The big attraction is the Great Big Wheel, the fair's Ferris wheel.
Visit PleasureLand RV Center
Stop by PleasureLand RV Center this summer to tour a new or used motorhome or travel trailer. Find one that's perfect for you and your travel plans this summer. If you're not on the market for an RV, you can still stop in at PleasureLand RV Center to schedule service, to learn more about RVing, or to shop for parts and accessories.