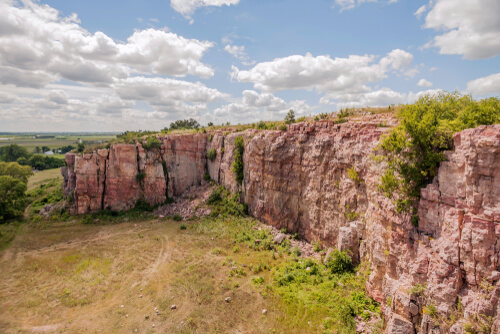 A park as beautiful as it is mysterious, Blue Mounds State Park offers up a truly unique experience. Cacti, prairie grasses, and wildflowers dot the landscape as herds of buffalo move across the horizon. Spring is the perfect time to visit since the grasses haven't grown to their tall summer heights, so the views are unobstructed. The park also features an enigmatic 1250 foot long stone ledge near the southern end of the park. It may have been used as an ancient calendar by native tribes. On the first days of spring and fall, the sunrise and sunset align perfectly with the stones.
What to Do
The park offers an extensive 20-mile trail system with hikes of varying difficulty. There are well-paved, level paths for beginners and steep dirt paths for more experienced hikers. Nature watching is also a valid activity. The park is notably home to buffalo herds, which you may be lucky enough to spy when you're walking about. There are also guided tours from park rangers, as well as self-guided interpretive trails. Some trails are open for off-road biking and you can cross-country ski during the winter. There's a swimming pool at the park open during the summer.
Visit PleasureLand RV Center
Before hitting the road to see Minnesota's state parks, be sure to visit Minnesota's #1 RV dealership, PleasureLand RV Center. From new and used RV sales to parts, accessories, and certified service, PleasureLand RV Center has got your adventures in Minnesota covered.