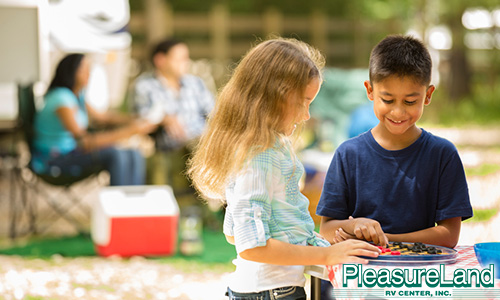 Traveling with children is no easy task. Road trips should be fun for everyone involved, but this can sometimes be a tall order for children, especially if they're not given a diversion. Like most other things, your best line of defense is preparation.
Snack boxes
Keep those little fingers busy with little objects and pique their curiosities with multiple items. Head to the craft store and pick up a bead organizer from the jewelry section. Personalize it with their name, and even a few decorations using a paint marker or stickers. Now, fill the compartments with small snack items like goldfish crackers, cheerios, oyster crackers, grapes – anything that will fit. The best part is there's a lid to keep the food inside when not in use.
Art projects
Individual art projects help children focus on one task, as opposed to a giant coloring book where they can quickly lose interest. Making up individual art project packs can help divide up the trip and help them focus on one task. Fill gallon-sized plastic zipper bags with printable coloring and education sheets, pipe cleaners, homemade play dough, or any other individual small project you can think of. Don't forget to put together one or two bags with additional supplies like markers and crayons.
Look Out of the Window Games
Let's face it, there comes a time in every road trip when you've exhausted your resources and the kids are heading toward bananas. It's time to get creative. Have them look out of the window and spot animals in the clouds, make up a story about where the car next to you is travelling, or make up a song about where you are coming from and where you are going. The more silly, the better for everyone, as nothing helps a road trip go easier than a good laugh.
Enjoy Your Next Road Trip with PleasureLand RV
Stop by PleasureLand RV before hitting the road. PleasureLand RV can help you start your trip off right with expert RV service and a huge inventory of new and used motorhomes.