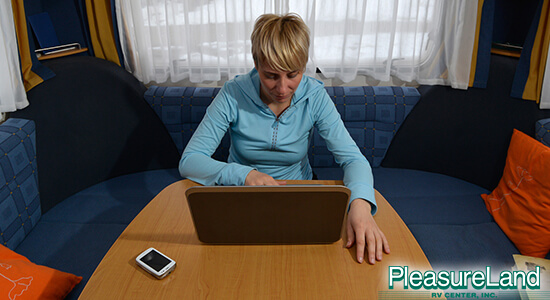 Traveling in an RV means it's time to minimize and cut back on some of the luxuries of living in a brick-and-mortar home. However, there are plenty of luxuries you don't have to give up, such as being able to log online whenever you please.
Many travelers assume they won't have reliable internet access when they hit the road, but it's easy to establish a hotspot inside your RV, so you never have to lose touch with work or the ones you love.
What Is a Hotspot?
A hotspot is the only way to stay connected to the internet without relying on an RV park, restaurant or other establishment's unreliable WiFi access. A hotspot can be created from your cellular phone or a specific hotspot device.
How Do I Get One?
Cellular providers Verizon and ATT offer some of the widest coverage across the United States, which means you can enjoy reliable internet access just about anywhere. Travelers can use the PDA.net application to tether a phone to other devices in the room, like laptops or tablets.
Travelers should invest in a data plan of 20 to 30 gigabytes per month for high-speed WiFi access that doesn't rack up a hefty phone bill. Discuss your hotspot needs with an ATT or Verizon representative before choosing your data plan.
Using Free Public WiFi
Free public WiFi can be extremely useful, because it doesn't use your allotted monthly data. However, free public WiFi isn't always as reliable as you need. Boost free public WiFi from campgrounds, RV parks or businesses with a WiFiRanger booster. This device improves the signal of free WiFi spots, so you can enjoy more reliable internet access without using data.
Start Living Life on the Road
Full-time life on the road is one of the most rewarding ways to travel, and having reliable internet access can help you stay in touch with loved ones and make money on the go. Stop in and see us at the PleasureLand RV Center to find your dream RV today.