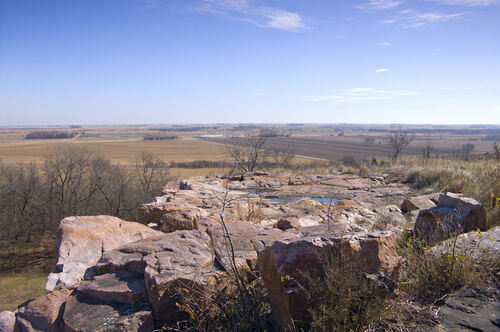 Minnesota is home to some of the best state parks in the country. And there are a lot of them too. If you want to narrow your search and visit the best of the best, we've got you covered with our must-see state parks in Minnesota. Fire up the RV and head to any one of these for a weekend of family fun.
Blue Mounds State Park
A park as beautiful as it is mysterious, Blue Mounds State Park offers up a truly unique experience. Cacti, prairie grasses, and wildflowers dot the landscape as herds of buffalo move across the horizon. Spring is the perfect time to visit since the grasses haven't grown to their tall summer heights, so the views are unobstructed. The park also features an enigmatic 1250 foot long stone ledge near the southern end of the park. It may have been used as an ancient calendar by native tribes. On the first days of spring and fall, the sunrise and sunset align perfectly with the stones.
Grand Portage State Park
Featuring the tallest waterfalls in the state, including the 120-foot tall High Falls of the Pigeon River, Grand Portage State Park offers some beautiful sights. The park marks a number of important sites, including the Grand Portage National Monument, which marks the site where fur traders established a center of commerce with the Ojibwa in the 17th century. This is also where Alexander Mackenzie embarked on his cross-continental trek towards the Pacific Ocean in 1793 – a full twelve years before Lewis and Clark made the same journey.
Itasca State Park
The original and, to some, the best state park in Minnesota. It's among the largest in the state and gives you a classic "National Park" feel with its classic lodging available at the historic Douglas Lodge. There's an onsite visitor center, restaurant, and common area with a fireplace at the lodge as well. Hiking is the best activity at the park, especially a hike to the Mississippi Headwaters where the river flows from Lake Itasca.
Visit PleasureLand RV Center
Before hitting the road to see Minnesota's state parks, be sure to visit Minnesota's #1 RV dealership, PleasureLand RV Center. From new and used RV sales to parts, accessories, and certified service, PleasureLand RV Center has got your adventures in Minnesota covered.