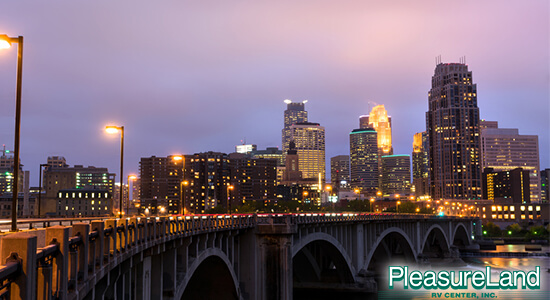 The holiday season is in full swing, and that means St. Cloud is bustling with events for the entire family to enjoy. Fire up your RV and cruise into one of Minnesota's favorite cities for these must-visit December activities and events.
Christmas at the Mansions
If you're not in the holiday season yet, Christmas at the Mansions can help. This annual event in nearby Little Falls features a self-guided tour of the Musser and Weyerhaeuser mansions. The gorgeous buildings are decorated to the nines for the holidays, with this year's theme being "Deck the Halls." The mansions are open Monday through Saturday from 1 p.m. to 7 p.m., and on Sunday from 11 a.m. to 6 p.m. Admission is $12 for adults and $5 for teens. Kids under the age of 12 get in free.
27th Annual Festival of Lights
The annual holiday lighting ceremony at St. Cloud Hospital will take place on Dec. 3, this year. The family-friendly event will feature trolley rides, caroling by the Tech High School Chamber Choir, appearances by Santa and Mrs. Claus, a live nativity, hot chocolate, and cookies. The entire event is free and open to the public, but don't forget to bring a few non-perishable food items to donate to the Food Shelf.
Dave Cofell's 7th Annual Christmas Show
Cruise over to St. Joseph for Dave Cofell's 7th Annual Christmas Show on Dec. 18, from 7 p.m. to 10 p.m. The family-friendly event will feature holiday storytelling, singing, poetry and plenty of jokes. The show's famous gingerbread cookies and an array of special guests are guaranteed to make this a night to remember. Admission to the event is free, and the show is sure to please all ages.
Stop and See Us
Don't forget to stop and see us at the PleasureLand RV Center in St. Cloud this holiday season. Our lot is fully stocked with the highest quality RVs to bring your family more holiday cheer than ever this December.