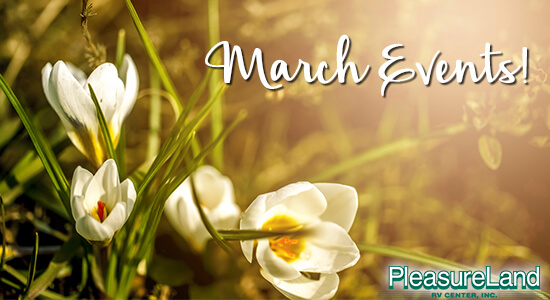 Spring is just around the corner, and there's no better time to visit St. Cloud. The city is bustling with art exhibitions, outdoor events and fun for the entire family. Be sure to stop for these three must-visit events when you're traveling through St. Cloud in your RV this March.
Kids Dream Winter Film Series
Take your little ones and their friends down to the Marcus Parkwood Cinema between March 4 and 6, for the Kids Winter Film Series. The event will take place at 10:30 a.m., each day, and tickets are just $3 per person. The theater is located at 1533 Frontage Road North in Waite Park.
Open Mike Night
Cruise down to the Great River Arts Center in Little Falls on Thursday, March 3, for open mike night. The event begins at 7 p.m., and all interested performers can sign up for a time slot upon arrival. Whether you're an aspiring artist or simply a music lover, you're guaranteed to love this monthly free event. If you can't make it to open night on March 3, the event recurs on the first Thursday of every month through December.
Mindfulness-Based Stress Reduction Class
There's no better way to kick the winter blues to the curb than with one of many health classes at the CentraCare Health Plaza. This month, visitors of all ages can take part in the mindfulness-based stress reduction class on March 1, 8 and 15. The event will take place from 6 p.m. to 8:30 p.m., and will help you learn ways to manage the stresses you face in daily life. Register for the class by calling the Health Plaza or by contacting Patsy Murphy at patsymurphy@mac.com.
Start Spring with a Bang
There's no better way to kick off the spring travel season than with a new or used RV from PleasureLand. Stop in and see us at our PleasureLand RV Center location in St. Cloud to get an unbeatable deal on the RV of your dreams.