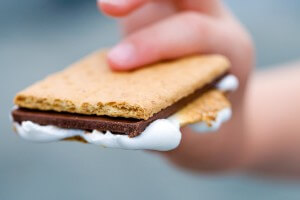 For chocolate lovers, August 10 is the day for celebration as the scrumptious, creamy, luscious treat known as s'mores celebrates its own national day. What a treat for RVers who plan to be camping on this special day.
At PleasureLand RV, your top-of-the-line RV dealership in Minnesota, there are new and used RV's, travel trailers, utility and cargo trailers, and even rentals in stock that can get you to a local campground to make your own s'mores over the campfire.
S'mores History
According to The Hershey Company* – experts in all things chocolate – the s'mores recipe made its debut in the Girl Scout handbook in 1927 and has been a favorite treat ever since. From Hershey, the company produces "enough Hershey's Milk Chocolate bars to make 746 million S'mores annually."
That's a lot of chocolate. Hershey's also noted "Americans buy more than 90 million pounds of marshmallows," so it's obvious s'mores deserve their own special day.
S'mores are one of the easiest treats to make using a campfire or even a microwave. If you've never had the experience of creating this mouth watering treat, follow these simple tips of how to make s'mores.
Things you'll need include Hershey's Milk Chocolate, a bag of marshmallows, graham crackers, and wooden sticks or skewers to roast the marshmallows.
Break one graham cracker in half. One half is the top, the other the bottom of the s'more.
Break the Hershey's Milk Chocolate bar into individual squares of 2 squares each.
Place the chocolate on one of the cracker halves.
Place a marshmallow on the stick or skewer and toast it till it's light golden and mushy. Turn the skewer to get all sides of the marshmallow roasted.
Place the roasted marshmallow onto the graham cracker with the chocolate.
Place the other half of graham cracker on top of the marshmallow, press firmly and gently pull the skewer or stick out of the marshmallow.
Let the s'more sit for a minute or two allowing the hot marshmallow to melt the chocolate and cool a little.
Press the crackers together, one more time, then enjoy the goodness.
Enjoy the day at your local campground or RV park, but, before heading out, have your recreational vehicle serviced to ensure everything is running as it should. The experts at PleasureLand RV can handle any problems and have you on your way to enjoy National S'mores Day with friends and family.