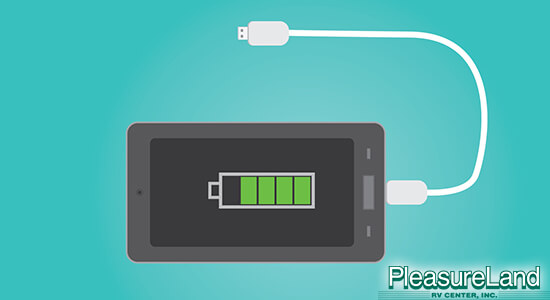 You probably never embark on an RV journey without your cell phone. That's because traveling with computers, phones and other handheld devices has become the norm. However, keeping those devices charged while camping can seem like a major hassle, and finding the perfect portable charging option is difficult.
These portable chargers are ones that actually work, so you won't have to waste your travel money on multiple charges that don't do the trick.
Braven BRV-Bank Rugged Portable Battery
The Braven BRV-Bank is a portable charger that you can take on your wildest adventures. It's water resistant and has met the military drop test standard 810G, so you don't have to worry if it takes a tumble. For right around $100, you can have a rugged battery that's capable of charging two cell phones fully at the same time. Other perks include a rugged micro USB to USB cable, a lanyard and a handy flashlight attachment.
Olixar Encharge Dual USB Power Bank and Card Reader
The Olixar Encharge Dual USB Power Bank and Card Reader is a more affordable alternative to the Braven BRV-Bank, and it's capable of charging two phones at once. You can get four full charges on a single smartphone or at least one full charge on a tablet (with more to spare). The package, available for around $47, comes with tons of adapters, so you won't have to go out and immediately buy accessories.
Cyntur JumperPack Mini
The Cyntur JumperPack Mini is the ultimate camping tool. This small power pack has the ability to jump start engines up to eight cylinders. It can hold a charge for nearly a year and is equipped with a USB port that's ideal for charging smartphones and tablets. Even better, it comes with a flashlight and emergency strobe function in case you find yourself in a bind.
Before you embark on your first fall camping excursion, stop in and see us at the PleasureLand RV Centers for all of your fall RV camping accessories.