Do you love outdoor toys like ATVs? Then you should really consider upgrading to a toy hauler RV! ATVs are a great addition to any camping trip, but they can be a bit of pain to tow behind your vehicle or current RV. A toy hauler, on the other hand, gives you everything you could possibly want in an RV along with a place to store your ATVs.
Pleasureland RV offers two types of toy haulers: a fifth wheel toy hauler and a travel trailer toy hauler . My personal favorite right now is the 2013 Dutchmen Voltage ! This beauty has it all – the full luxuries of a travel trailer with ample garage space to store your outdoor toys.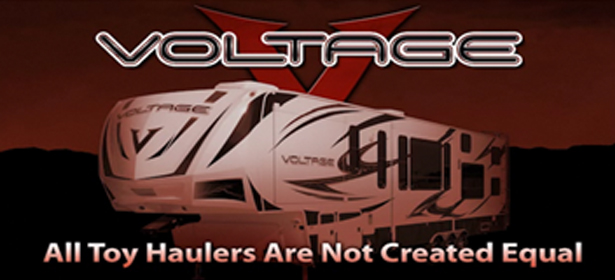 The 2013 Dutchmen Voltage is 42 feet long and comes with three slides. Voltage toy haulers offer a flexibility simply not available on any other recreational vehicle. Living areas are laid out for maximum comfort and enjoyment. Kitchens are a pleasure to prepare meals in. Bedrooms offer incredible relaxation and serenity. Click on the images above for more info or swing by one of Pleasureland RV's four locations to check one out for yourself!
#Showroom/tabid/279/Show/View/RV/25133/2013_FIFTH_WHEEL_TOY_HAULER_Dutchmen_Voltage_3905.aspx