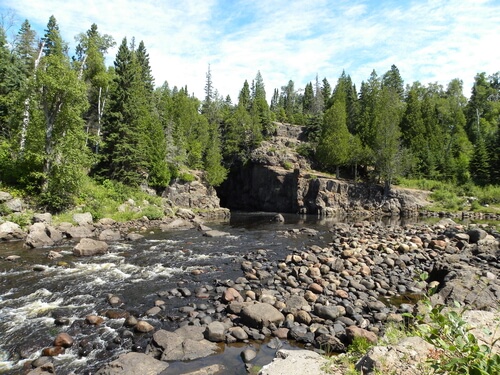 As the name would suggest, Temperance River is the centerpiece of this Minnesota state park. The crown jewel, perhaps, is the trail that follows the river, winding along the Temperance River Gorge, where hikers can hear the rushing waterfalls surrounded by pine, spruce, cedar, and birch trees in the forest.
The sprawling park, which covers over 5000 acres of land, gets nearly 300,000 visitors every year. The park's most popular hobbies and activities include rock climbing, fishing, hiking, camping, nature watching, and sight seeing.
As far as nature observation, there's plenty of wildlife to be seen in the park and sightings are common. The river itself is full of trout, including brook, brown, and rainbow.
The origin of the name of the river is a bit humorous: in the past, the river flowed so strongly into Lake Superior that there was no buildup of debris, so it had no bar. What kind of river has no "bar?" One that's temperate, of course!
The park is located at 7620 West Hwy 61, Schroeder, Minnesota. The entrance is one mile north of Schroeder along Hwy 61.
Visit PleasureLand RV Center
Stop by PleasureLand RV Center before you hit the road to make sure that your rig is road worthy. If it's time to upgrade your RV, or even if you're shopping for your first, PleasureLand RV Center can help make sure that you get an RV that's right for you.