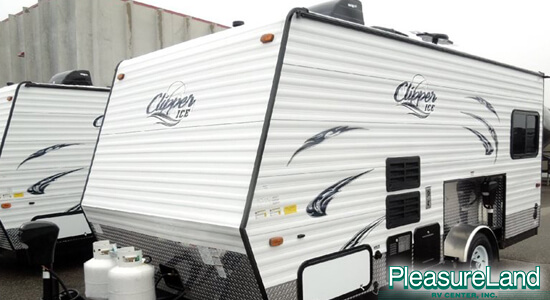 The 2016 Coachmen Clipper 18 ICE is currently on sale right here at the PleasureLand RV Center for our unbeatable Ice House Sale through Dec. 12. The clipper travel trailer has been designed to be an easy-to-use ice house that helps you get out on the water more this winter season. It's aerodynamic, easy to tow and easy to enjoy with a range of amenities that might make you forget you're traveling out in the winter elements.
The Clipper Ice Floorplan
The 2016 Coachmen Clipper 18 ICE layout is designed to offer the comforts and conveniences you need to enjoy the ice to the fullest. This compact travel trailer is equipped with a full wet bath, a full kitchen with stove, oven, refrigerator and sink, plenty of storage space, a bench sofa with table and two comfortable lift-up beds. A convenient bench area sits in front of the ice holes to make your fishing experience more enjoyable than ever before.
Amenities and Features
You're guaranteed to be impressed by the amenities this ice house has to offer. It feels more like a cozy home away from home than a rugged ice shack. You're guaranteed to fall in love with the easy-to-clean rugged flooring, Lumbercore cabinetry, high pressure laminate countertops, high-neck sink faucet, extra deep kitchen sink, microwave, lighted range hood, mini blinds, monitor panel, window valances, power bath fan and other features that will make you feel at home every time you head onto the ice.
The Clipper 18 ICE is just as rugged and durable as it is luxurious. Travelers enjoy the Clipper's radial tires, heavy-duty safety chains, E-Z crank tongue jack, ultra lube leaf spring axles, powder coated I-beam frame, galvanized wheel wells, radius tinted safety glass windows and other touches that provide you with peace of mind year after year.
Get Out on the Ice
The 2016 Coachmen Clipper 18 ICE is guaranteed to get you on the ice more than ever this year. Stop in to shop our PleasureLand RV Center Ice House Sale before Dec. 12.