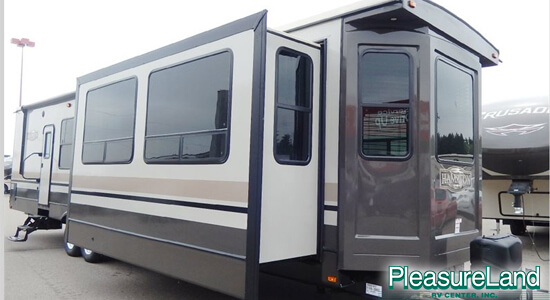 If you think you'll never be able to afford your dream vacation home, you've never looked at the 2016 CrossRoads Hampton. This luxurious destination trailer is ready to be your portable dream home, so you can enjoy a lifestyle you probably thought you couldn't afford. It's available in five residential floorplan options, so you can find the one that's perfect for you and your family's needs.
The Floorplans
Each Hampton floorplan is designed to be your dream home away from home. Whether you're interested in a destination trailer with a front bedroom, a rear bedroom, two bathrooms, a rear living area, bunks for kids or guests, two private bedrooms or a front kitchen with bar, there's a 2016 CrossRoads Hampton to suit your specific travel needs.
Each 2016 Hampton is equipped with a residential kitchen, comfortable living area, entertainment center, private bedroom, spacious bathroom and everything you need to enjoy every moment inside your new RV.
High-End Standard Features
Each CrossRoads Hampton destination trailer is outfitted with the highest end standard features, so you always feel comfortably at home. Hampton owners enjoy stainless steel appliances, an 8-foot floor-to-ceiling height, an HD LED TV, decorative accent lighting, two toned wood fascia, a fireplace, a power ventilation fan, hardwood raised panel cabinet doors, an armoire, a faucet with pull-out sprayer, decorative window treatments and countless other touches that make this travel trailer feel more like a high-end home than an RV.
The exterior of the Hampton is just as luxurious as the interior with tinted glass windows, a patio awning, an outdoor shower, exterior speakers, a detachable hitch, one-piece radius rubber roof, rain gutters, electric slides and a long list of other features that make this one of the most comfortable and reliable travel trailers in the industry.
Start Your New Travel Lifestyle Today
The 2016 CrossRoads Hampton proves that your dream vacation home is not out of your budget. Tow this unbeatable destination trailer away from our PleasureLand RV Center lot for an unbelievably low price today.