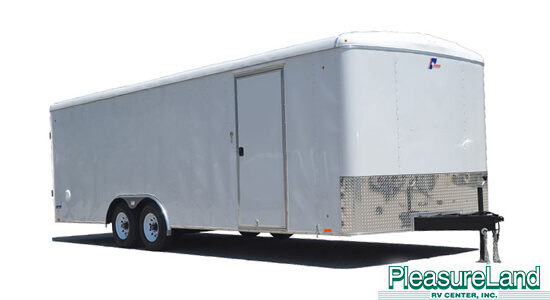 When you need a trailer to haul your cargo safely and securely, there's no better place to look than the 2016 Pace American Journey. This top-quality trailer is available in three models to accommodate motorcycles, automobiles or other cargo, so you can find the ideal towable that suits your specific needs.
Journey Motorcycle Trailer
The Journey Motorcycle trailer is the ultimate way to haul your motorcycle from Point A to Point B. This 7-foot-long motorcycle trailer features LED lighting, two wheel chocks, a 3/4-inch floor and 24-inches of polished aluminum on the bottom exterior sides. Even better, the Journey Motorcycle Trailer is affordable and reliable, so you won't find yourself having to purchase a replacement years down the road.
Journey Cargo Trailer
The Journey Cargo Trailer is the best way to haul your gear, tools and other supplies. This mid-line cargo trailer is available in a range of lengths and widths to suit any type of cargo you need to carry. You'll also enjoy tube main frame construction, Dexter spring axles, EZ-Lube hubs, a galvanized roof, LED clearance lights, LED tail lights, a 3/4-inch floor, safety changes and everything you need to feel confident about hauling your precious and expensive cargo.
Journey Auto Hauler
Car enthusiasts have to be careful with the vehicles they're hauling, and the 2016 Journey Auto Hauler makes that easy. Budget-minded car enthusiasts will love this auto hauler's LED lighting, dome lights, recessed bolted D-rings, tube main frame construction and countless other top-quality features that come without any extra cost. The Journey Auto Hauler is available in white or black and measures 8.5-feet in length, so you can get to your destination safely and in style.
Tow One Away Today
The PleasureLand RV Centers aren't just places to purchase new or used recreational vehicles. We offer a wide variety of cargo trailers, including brand-new Pace American Journey trailers, to help our customers carry their cargo from Point A to Point B stress-free.