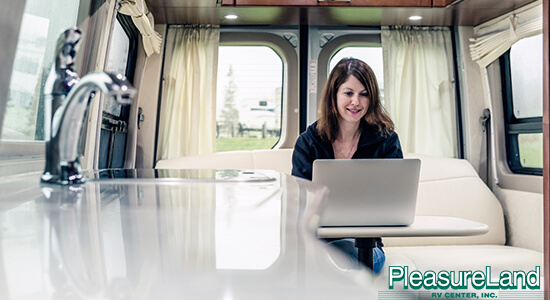 Every new travel season means it's time to stock your RV with certain season-specific supplies. Fortunately, we have all of the industry's latest and greatest RV parts and accessories right here at our PleasureLand RV Center locations as well as at our online parts store. The following are a few of the latest and greatest RV gadgets available for the spring and summer travel seasons.
RV EZLevel by Camco MFG
The spring and summer RV seasons are some of the busiest, and that means you'll probably be hopping from campground to campground throughout the upcoming months. The RV EZLevel will help you level your RV quickly and accurately, so you can rest easier and keep your appliances and electronics safely level. This easy-to-store, compact tool makes sure both axles are leveled simultaneously, so you can stop working and start exploring.
Endless Breeze by Fan-Tastic Vent Co.
The Endless Breeze by the Fan-Tastic Vent Co., is the only 12-volt fan you'll need on your spring and summer travels. The 12-inch blade can operate at three speeds and move air as quickly as 1,000 cubic feet per minute. The easy-to-store fan stands just 14-inches high and 3-inches thick, so you can fit it just about anywhere.
VacPan Automatic Dustpan Kit by HP Products
Spring and summer travels mean sand and dirt all over the interior of your RV. Clean that grime up quickly and easily with the VacPan Automatic Dustpan Kit by HP Products. This add-on to the CV950 Central Vacuum System is easy to operate with a toe-kick switch. Simply sweep the debris and dust over to the dustpan, and it will quickly be sucked in and whisked away. This automatic dustpan lets you forget about spending half of your day inside sweeping and mopping when you could be outdoors.
Find all of these awesome RV gadgets and countless others at our PleasureLand RV Center online parts store. The online store is conveniently open 24 hours a day and seven days a week.