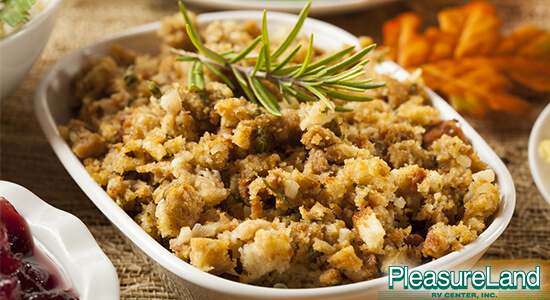 Many Americans agree that the sides of the Thanksgiving meal are even better than the turkey. However, the usual green beans, mashed potatoes, cranberry sauce and stuffing can seem a bit drab year after year. This cheesy barley gratin can easily be mistaken for macaroni and cheese, but instead, you'll find a decadent and savory side dish that will amaze your guests.
What you'll need:
8 tablespoons unsalted butter
2 cups shredded mozzarella
1 cup grated Parmesan
2 cups pearled barley
salt and black pepper
2 large cloves garlic (minced)
1 1/2 teaspoons fresh thyme (chopped finely)
1 1/2 cups panko breadcrumbs
6 ounces Gruyere (shredded)
1 large yellow onion (chopped)
4 cups whole milk
1/4 cup all purpose flour
Cooking instructions:
Preheat oven to 400 degrees and place oven rack in the center. Grease a 3-quart baking dish with butter.
Bring a small pot of salted water to a boil.
Stir the barley into the boiling water and boil for about 20 minutes or until slightly chewy. Drain and rinse.
Melt 2 tablespoons of butter in a medium bowl.
Combine the Gruyere, Parmesan and mozzarella in a separate medium bowl. Stir 1 cup of the cheese mixture, 1/2 teaspoon salt, and bread crumbs into the melted butter bowl. Work breadcrumbs and cheese into the butter.
Melt the remaining butter in a large pot on medium-high heat. Stir in the onions and a pinch of salt. Cook until the onions are slightly browned.
Return heat to medium and add the thyme and garlic. Stir until softened.
Stir in the flour and cook until a thin paste is formed. Whisk in milk for about 1 minute. Add 1 teaspoon of salt and pepper. Simmer, stirring occasionally.
Remove mixture from the heat and stir in the cooked barley and cheese mixture.
Spoon into the baking dish and sprinkle the remaining breadcrumbs on top.
Bake until golden brown or for about 30 minutes.
Find your dream RV this holiday season right here at the PleasureLand RV Center in Minnesota.