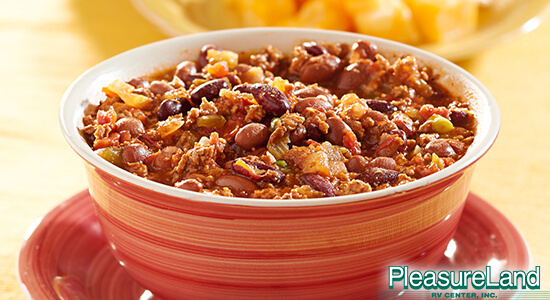 As temperatures start to drop and fall begins to settle in, it's no wonder that October is National Chili Month. Most seasoned cooks have a go-to chili recipe for this time of year, but sometimes it pays to try something new.
This mouthwatering, award-winning chili recipe is one that takes just a couple of hours to prepare but is guaranteed to wow your friends and family at the campsite.
Award-Winning Classic Chili Recipe
What you'll need:
1 pound ground venison (or beef/turkey if venison is not available)
1 green pepper (diced)
2 onions (diced)
1 can Rotel or other Mexican-style diced tomatoes
2 cans tomato sauce (8-ounces each)
1 tablespoon jalapeno (finely chopped)
2 tablespoons cumin
1 teaspoon salt
2 tablespoons chili powder
1/2 teaspoon cayenne pepper
1 can kidney beans (14-ounces, drained and rinsed)
1/2 teaspoon paprika
1 can black beans (14-ounces, drained and rinsed)
1 cup water
Toppings:
Green onions (chopped)
Sour cream
Cheddar cheese (shredded)
Cooking instructions:
Cook the ground meat in a dutch oven. Add the onions and peppers before the meat is fully cooked. Saute until the peppers and onions start to soften.
Drain the excess grease from the dutch oven.
Add the tomatoes and seasonings to the dutch oven. Pour in the water and bring the entire mixture to a boil.
Add the kidney beans and black beans to the dutch oven, then cover the entire mixture and let it simmer for 1-2 hours.
Serve the chili while hot with a dollop of sour cream, shredded cheese and chopped green onions on top.
Start Your Fall Adventures at PleasureLand
Fall is one of the most comfortable times of year to hit the road in your RV. The temperatures are mild, the campgrounds are less crowded and the PleasureLand RV Center is offering unbeatable deals on new and used RVs, parts, accessories and service. Log online or stop in and see us to find out more about our special fall deals.