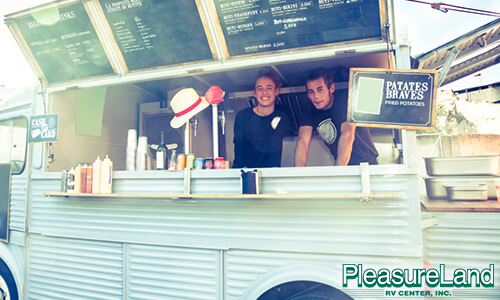 Food trucks are popping up across the country, and Minnesota is home to some of the best. Whether you have a craving for spicy Indian food, street-food-style tapas, fish and chips or freshly-baked cupcakes, there's a food truck for you in the Land of 10,000 Lakes. The following are just a few of the tastiest trucks in the Minneapolis-St. Paul area.
A Cupcake Social
Need a more unique way to start or finish your day? A Cupcake Social offers everything from iced lattes to gourmet cupcakes and cake crumble sundaes. This gourmet take on a traditional sweet-filled ice cream truck will have you running out of the office and down to the street like a 10-year-old.
Baldy's
You can find Baldy's in the St. Paul and Lakeville areas, and you're bound to be blown away by the truck's flavorful barbecue dishes. Ranging from pulled pork and brisket to Missouri sausage, ribs and baked beans, you can enjoy authentic barbecue without having to fire up the grill.
A La Plancha
A La Plancha offers street food unlike anywhere else. This on-the-go tapas restaurant serves up Spanish-inspired dishes, including cubanos, quesadillas, gazpacho, empanadas, and a wide selection of vegetarian and vegan options.
The Bison Butler
The name may be strange, but the food is delicious. The Bison Butler serves farm-to-table barbecue and bison meals, including burgers, sausage, brats and mouthwatering steak tacos. Eating fresh, sustainable foods on the go just became a lot easier.
FunFare Global Street Eats
FunFare Global Street Eats is one of the most exciting food trucks on the road. Taste flavors from around the world, ranging from Louisiana shrimp po' boys to pulled pork, Baja fish tacos, baklava and Cuban sandwiches. The multinational theme means everyone in your group will find something they love.
Don't forget to stop and see us at the PleasureLand RV Centers in St. Cloud, Ramsey, Brainerd, and Long Prairie when you're cruising throughout Minnesota in your RV this summer.