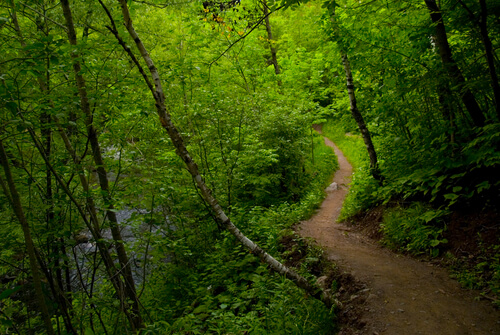 There are countless scenic hiking trails throughout Minnesota for all levels of hikers, and the following three are a few of our favorites.
Minnehaha Creek East
One of the biggest perks of Minnesota's hiking trails is that they can be enjoyed during all seasons. This hike along the Minnehaha Creek is nearly 5 miles of breathtaking scenery in the summertime, but it's certainly more difficult when there's snow on the ground. It's located Richfield, Minn., so you can enjoy a refreshing breath of the Minnesota outdoors just minutes from downtown Minneapolis.
Eagle Mountain Summit
Hikes are more fun when there's a reward at the end. Eagle Mountain is the highest peak in the state, and the 6.6-mile-long tail that leads to the summit passes a glacial lake and scenic backcountry campsites. Hikers enjoy the Boundary Waters Canoe Area Wilderness, which includes 1,000 lakes as well as the massive Superior National Forest. The trail to the top is mostly flat with a steeper incline for the last mile, but be sure to stop at Whale Lake for a refreshing dip and a picnic.
Cascade Falls to Lookout Mountain
Hiking past waterfalls never gets old, and the Cascade Falls to Lookout Mountain passes countless of them. Venture on the 4.1-mile-long hike, and you'll be rewarded with cascades, scenic wooded hills and unbeatable views of Lake Superior from the top. The trail is located in the Cascade River State Park in Duluth, offering a breathtaking escape from the city.
Start Your Adventure at PleasureLand
There's no better way to travel to your favorite Minnesota hiking trails than in the comfort and convenience of your RV. Stop in and see us at one of our many Minnesota PleasureLand RV Center locations to start your new RV lifestyle today.