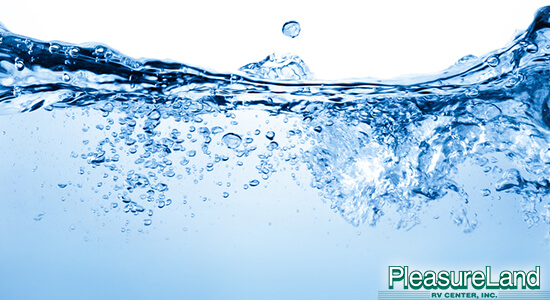 The RV lifestyle is relaxing and invigorating — until you run out of water. Whether you're camping in the wilderness with a limited amount of water for your stay or are simply trying to enjoy a greener RV lifestyle, these five tips will help you conserve water on your RV excursions.
Don't Run Water to Wash Dishes
After living in a home with a seemingly endless water supply, it's easy to slip into the habit of running water when you wash your dishes. Instead, keep a wide container in your sink and fill it with soapy water. Wash your utensils and other items in the dish, then dump the dishwater and replace it with rinse water. Rinse the items in the dish, then set them out to dry.
Be Conscious in the Shower
Showers are typically relaxing in brick-and-mortar homes, but they're not as luxurious on the road. Always turn off the water while you apply soap to your body and shampoo your hair, then turn the water back on for a short amount of time to rinse. If you're headed into the wilderness for a while, bring a couple of additional Coleman Solar Shower bags full of clean water for showering as well.
Use Your Resources
Always keep your surroundings in mind when choosing a perfect campsite or camping destination. Park near a river or lake whenever possible to use it for bathing and washing clothing. However, it's important to shop for environmentally-friendly shampoos and cleaners before you head to an area where you'll be bathing in your natural surroundings. You can conserve even more water by using the lake or river water to flush your toilet too.
Find Your Dream RV at PleasureLand
Are you looking for an RV that will help you stay on the road and in the wilderness longer? Here at the PleasureLand RV Center in Minnesota, we offer a massive selection of top-quality new and used RVs that are ready to be driven or towed away today.