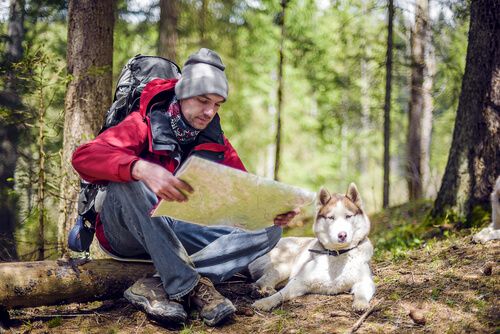 When you're packing for an RV trip, whether it's a short weekend trip or a long trip, you definitely don't want to forget anything. And when you are bringing your pet with you, you definitely don't want to forget anything, especially the dog's food or leash. Be sure to make a list of everything you need for yourself, your family and your pet. And, keep in mind that your pet has additional travel needs.
Stopping More Often
If you are bringing your dog with you and you would like to be at a certain destination by a certain time, you'll need to add some extra time to the trip. While you might be able to go eight hours without stopping, your pets may not be able to make it that long. Plan on stopping for about 15 minutes every 3 hours to give your pet a break. Never let your pet ride in a trailer.
Providing Water
If you are not providing your pet with water in the vehicle, you'll need to give it a drink whenever you stop, in addition to the bathroom break.
Food
If the trip is more than eight hours and you plan on driving through, be sure to feed your pet. If you normally feed your pet more than once a day, plan stops that are close to its regular feeding time. If your pet normally eats just once per day, but is used to having snacks throughout the day, be sure to bring its treats in the vehicle with you.
Car Sickness
If your dog tends to get car sick, check with your vet for the dosage of Dramamine it can have. You'll want to give your dog the medication at least a half hour before you start the trip. Ask your vet how long a dosage should last and when you should re-medicate while you are on the road.
Weather
If you are traveling from a warm climate to a cold climate and your dog normally wear sweaters when it's cold, be sure to pack a sweater in the vehicle with you so that you don't have to stop to look for it in the trailer or back of the RV.
Visit PleasureLand RV Center

Stop by PleasureLand RV Center to walk through our floor plans if you are ready for a new RV; or to pick up any RV accessories you might need for your trip.