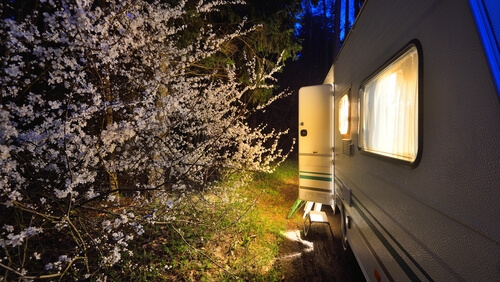 If you just bought an RV from PleasureLand RV Center this summer and it's your first time out in your new RV, you may be daunted by the idea of setting up your RV at the campsite or RV park.
We've got you covered – here's everything you need to know when setting up at your destination.
Getting to Your Assigned Spot and Getting Your Rig Situated
It's pretty standard to check-in at the campsite or RV park front office just like you would at a hotel. When you get there, you can ask if they've got an escort service. This serves to not only guide you to where your site is located, but they'll be able to help you get your RV setup as well, including getting it parked and leveled.
Once you get there, regardless of an escort, you'll need to either back your RV up or pull it through. Whether it's back up or pull through, just make sure that your hookups are roughly aligned with their outlets at the site.
Once you're satisfied with your positioning, apply the parking brake if you're in a motorhome.
Now it's time to level your RV. Not all sites will be perfectly flat, so use blocks and stabilizing jacks to get your RV flattened out. Once that's done, chock the wheels so that there's no chance your RV will slide or roll.
Next, go ahead and extend steps, slide-outs, and awnings.
Water and Power
Connect your electric cord to the site's outlet that matches your RV's required amperage and don't forget to switch your fridge from propane to electric or you'll run out of propane real fast.
Your site ought to have at least a clean water hookup, but many also have sewage. Ask for help if you're unsure how to connect your RV to these hookups.
Make Yourself Comfortable
Now it's up to you to make your site feel like home. This part is up to you, but you might want to set out some lawn furniture, mats, decorations, etc.
Visit PleasureLand RV Center
Stop by PleasureLand RV Center this summer to tour a new or used motorhome or travel trailer and to learn more about the RV lifestyle. If you've got questions on how to operate your RV, we'll be happy to help.