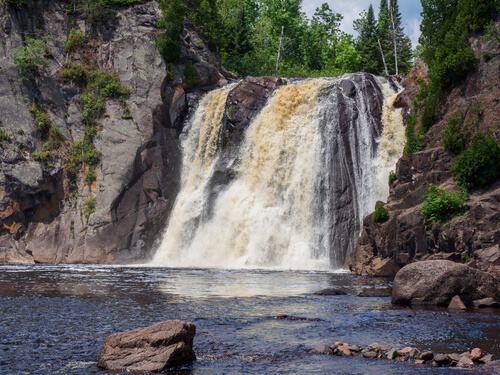 Visit Tettegouche State Park to explore the North Shore region. The park includes spectacular overlooks, such as Shovel Point, rocky cliffs, inland bluffs, cascading falls, and the historic campground.
Hikers will be in heaven as they explore the miles of trails that wind in and out of scenic overlooks, including some that give a great view of the Sawtooth Mountains.
The park is also know for its rock climbing opportunities. Fishing is also popular, with two lakes specifically made for trout fishing.
Wildlife observers will enjoy the park as well; the wide variety of plant communities in the park supports more than 40 species of mammals. Most commonly seen are white-tailed deer, snowshoe hare, red squirrel and beaver. Less commonly observed are moose, black bear, red fox, and river otter. Occasionally, coyote, fisher pine marten, northern flying squirrel, and even the timber wolf are seen.
Birdwatching is popular. In all, 140 species have been identified living in the park in various seasons. Kinglets, spruce grouse, and many northern warblers nest in bogs and coniferous forests in the summer.
Visit PleasureLand RV Center
Stop by PleasureLand RV Center before you hit the road to make sure that your rig is road worthy. If it's time to upgrade your RV, or even if you're shopping for your first, PleasureLand RV Center can help make sure that you get an RV that's right for you.