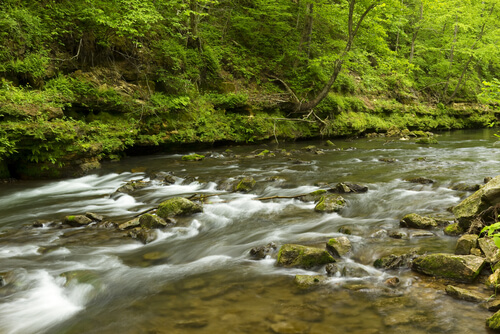 Continuing the series on Minnesota's state parks, we've got Whitewater State Park up next. Sprawled across 2,733 acres, the park is one of Minnesota's most popular parks, attracting over 250,000 annual visitors and over 50,000 overnight stays.
Dakota Indians named the river Whitewater because it turned milky white in the spring as high water eroded light-colored clay deposits along its banks. In 1851, a treaty opened up most of southern Minnesota for white settlement, including the Whitewater area. Settlers removed much of the native vegetation in order to farm and graze the land. In 1900, flooding related to land use began. Almost two decades later, local citizens lobbied successfully to establish Whitewater State Park to protect some of the most beautiful parts of the valley. After numerous programs were instituted to help control the flooding in the area, including prohibitions on wood harvesting and forming ponds to serve as dikes, the Whitewater Watershed Project is cultivating a return to the area's natural state.
The park is a wildlife observer's dream, containing nearly 50 kinds of mammals and upwards of 250 types of birds throughout the year. Some of the more obvious residents are year-long wild turkey and bald eagles.
Hiking is a great activity in the park, as the scenery is gorgeous. Expect picturesque limestone bluffs and deep ravines. These hiking trails rate from easy to challenging.
Fishers will enjoy the park with its brown, brook, and rainbow trout in the park's spring-fed Whitewater River and Trout Run Creek.
Those just looking to relax will enjoy the sandy beaches and the modern visitor's center and group center.
Visit PleasureLand RV Center
Stop by PleasureLand RV Center before you visit any state park in Minnesota to make sure that your RV is in good shape to travel. If you need to upgrade your rig, PleasureLand RV Center is the place to shop. Tour our wide inventory of new and used RVs, from Class A motorhomes to fifth wheel trailers.