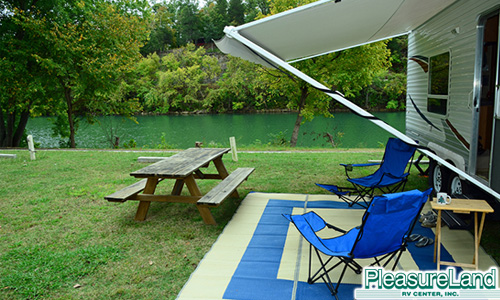 If your plans are starting to gear up for an over the road adventure, before heading out, stop in at PleasureLand RV Center for last minute accessories. From awnings and recliners to games and kitchen supplies, you'll leave with everything you need for a complete trip whether you're traveling with a travel trailer or a class C motorhome.
Something else to consider are the RV parks you'll be staying at along the way. Use these tidbits from seasoned RV travelers to help select the best park environment.
First impressions upon arrival are critical. When signing in, a welcoming atmosphere is what you want versus being just another number.
It's preferable that an on-site manager be available in case of emergencies.
Size of the site matters. Do your research and keep in mind public parks run by the county or state may have more room to negotiate and can offer larger sites, whereas private RV parks may be restricted in the amount of space available. This means, you may not have a lot of privacy and end up being sandwiched between motor homes.
The site should be visually appealing whether it's with a nearby tree or two, some shrubbery or a grassy area. Ensure the area has adequate gravel, blacktop or raised concrete areas that are in good repair. A picnic area with table, grill and fire ring are also pluses you want at your disposal.
It's important to have full hook -up utilities of water, power and sewer. It 's also important the amp's available are adequate for your particular motor home.
Clean restrooms are an added bonus. Add to that private shower and dressing room areas and you have an alternative to using your RV shower which is especially useful when multiple people are traveling in the RV.
Consider RV parks with a pool, hot tub, tennis courts, club house, WiFi, shuffleboard, family activities, laundry facilities and a store for buying food, drinks, snacks and necessities.
Choose RV locations near enough to area attractions, shopping, hiking, biking, canoeing and dining but far enough away where you won't be interrupted by heavy traffic and noise.
After you return home, bring your RV in for an "after vacation" tune up at PleasureLand RV Center so you'll be ready to hit the road at a moment's notice the next time you're ready for an over the road adventure.