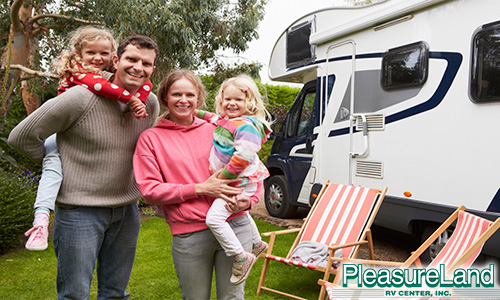 RVing is about enjoying the RV, your friends and family, and the open road. You don't want to worry about the negative or dwell on what can go wrong. And you shouldn't have to. By taking some basic precautionary steps, you can help to safeguard the things that matter to you when you're out on the road and gain some peace of mind, while still having fun.
1. Keep Your Valuables Stowed Away
While theft of your RV is a concern, oftentimes a break-in will occur simply to steal a valuable item that can be seen through the window. Whenever you leave your RV alone, take a moment to assess the items you have out that may be attractive to a burglar, such as laptop computers, tablets, jewelry, and other valuables. Stow these and similar items out of sight when you leave by placing them in bags, cases, cabinets, drawers, or even under a jacket or towel. By eliminating incentives for a break-in, your eliminate the chances that one will occur. If you have items that can be used to compromise your identity, such as passports or social security cards, consider a safe or lock box.
2. Research Your Destinations
While you're probably already researching hours of operation, directions, prices, and RV amenities, you may want to add an additional point to your checklist: crime rate. Whether your destination is urban or rural, it's good to know how safe an area you plan to visit is. Avoiding crime-prone areas is the best defense against burglary and break-ins. By staying to areas with low crime rates, you significantly reduce the chance of being a victim.
3. Lock Up
While it may seem like an obvious suggestion, it can be easy to overlook, especially if you're having a good time and potential misfortune is far from your mind. Locking up is a simple precaution that you should practice regardless of how long you'll be leaving your RV out of sight. Even if you're just taking a short hike or heading to the nearby lake for a swim, make sure you lock up every point of access and double check to make sure it's securely closed. Take all keys with you and don't trust a copy of your keys to anyone you don't know.
4. Ensure That Your RV is Equipped to Handle Fires

Not every threat comes from strangers – fire is a valid concern to any RVer and can quickly destroy your property if you have no plan in place to address it. By simply equipping your RV with fire extinguishers and smoke detectors, you can drastically reduce the risk of a fire getting out of control. Setup an inspection schedule to check that your extinguishers and smoke detectors are operational and effective.
5. Insure Your Property
If the worst comes to pass and your RV or possessions are stolen or destroyed, you'll want to have as much as possible insured so that you can recover and get back to the life you've worked so hard to attain. Don't leave your valuables out on a limb; rather, make sure they're backed up by a reliable insurance plan.
Visit PleasureLand RV Center

Come see us at PleasureLand RV Center to see our entire RV inventory or receive RV service.