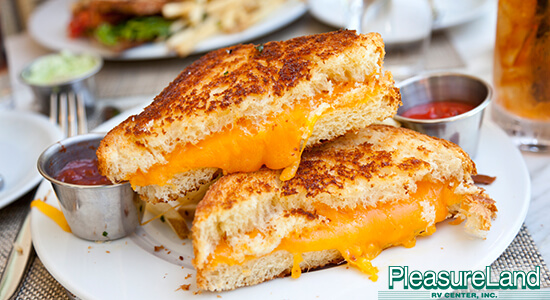 April is National Grilled Cheese Month, and that means it's time to turn one of America's most classic dishes into something new. Try this mouthwatering and creative grilled cheese recipe to spice up your RV meals this spring season.
Golden Gate Grilled Cheese
What you'll need:
2 tablespoons softened butter
1/2 teaspoon red chile flakes
1 teaspoon minced garlic
6 ounces thinly sliced turkey
1/4 cup milk
1 large egg (lightly beaten)
1 cup coarsely grated Parmesan cheese
1/2 avocado (thinly sliced)
2 slices muenster cheese
1 tablespoon cilantro (chopped)
4 freshly cut slices of sourdough bread
Preparation instructions:
Combine the garlic, butter and chile flakes together in a small bowl.
In a separate medium bowl, whisk the egg and milk together thoroughly.
Spread the Parmesan cheese onto a plate.
Melt half of the seasoned butter on medium heat in a large frying pan.
Dip one of the bread slices in the egg mixture. Be sure to coat just one side. Dip the coated side into the parmesan cheese, then place the bread slice into the frying pan (the cheese-side should be facing down). Follow the same procedure with one of the three remaining bread slices.
Arrange the turkey, cilantro, avocado, and muenster cheese onto the slices in the frying pan. Divide the ingredients evenly, so each open-faced sandwich looks the same.
Dip the remaining two pieces of bread into the egg, then into the Parmesan cheese one at a time.
Place the remaining pieces of bread on top of the sandwiches with the cheese side up.
Cook the sandwiches on medium heat until the bottom pieces of bread are browned (roughly 3 to 5 minutes).
Lift the sandwiches off the pan, then pour the remaining butter into the pan. Place the sandwiches back in the pan with the opposite side down. Cook until the opposite side is golden brown and serve.
Stop and see us at the PleasureLand RV Centers throughout Minnesota when you're cruising throughout the country in your RV this month.