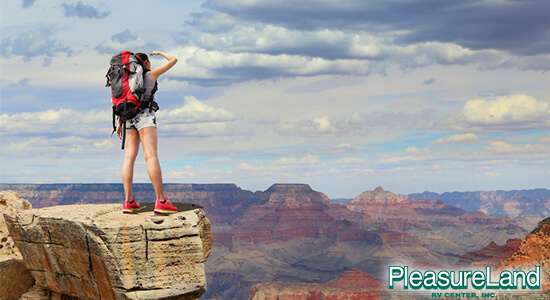 August is American Adventures Month, and the only way to celebrate is by traveling to some of America's most unique spots. These three unbeatable American adventures are ones every explorer should try in their lifetime.
Take a Small Boat Cruise Through Glacier Bay
Few places in the country are as rustic as Alaska, and it's a place every adventurer should visit. When visiting the Last Frontier, don't miss out on the opportunity to take a small boat tour through Glacier Bay and the Prince William Sound. You'll enjoy the unmatched opportunity to admire wildlife up close, see Alaska's landscapes from a new perspective and dodge icebergs in some of the world's prettiest waters.
Trek the John Muir Trail
The John Muir Trail, also known as the backbone of the Sierra Nevada mountain range, takes approximately 17 days to complete, and it's guaranteed to be the adventure of a lifetime. The 146-mile stretch of trails spans between Mount Whitney and Yosemite, where you'll see some of the world's most breathtaking scenery up close and personally.
Go Boulder Scaling in Central Park
You don't have to be out in the wilderness to enjoy an unbeatable American adventure. Boulder scaling, or bouldering, is something even novice climbers can try, because it is done very close to the ground without a spotter or ropes. Rat Rock, in New York's famed Central Park, is easy to find from it's countless white chalk marks left by climbers. Head to the north face of the wall for a beginner-level climb, then advance east for a more challenging route.
Your American Adventure Starts Here
There's no better way to travel to all of America's great adventure sites than in the comfort and convenience of an RV. Here at PleasureLand RV Center in Minnesota, we'll help you locate a perfect new or used RV that fits within your budget needs.