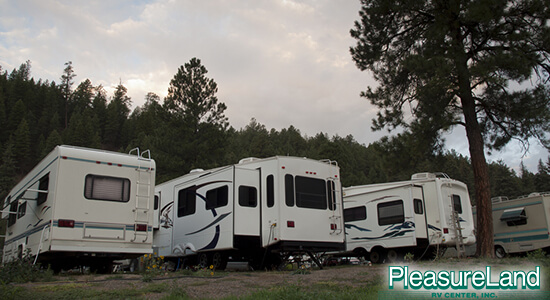 Choosing the perfect RV campground isn't as easy as loading an app and picking the closest campground to your destination. Some campgrounds are geared toward families, some are designed for retirees, some are pet-friendly, and the list of differences can go on and on.
If you're planning on spending any period of time at a campground, it pays to find one that suits your travel needs. This simple guide will help you locate a campground that you'll never want to leave.
Research From Home
Don't wait until you hit the road to start finding the perfect campground. Researching from home, where you have reliable internet access, can be much more efficient and effective. Search for campgrounds and RV parks near your destination and take the time to look at each website thoroughly. Use your list of desired amenities and campground features to select a handful of places that best suit your needs.
Get Everyone Involved
Once you've located a number of campgrounds that offer the amenities and location you're desiring, it's time to consult all of your fellow campers. Letting everyone play a role in the choosing process ensures that no one is surprised or disappointed upon arrival.
Call Ahead
Not all campground websites present their amenities, rules or location properly. When in doubt about any campground features, call the campground to confirm. This can help you avoid serious problems like arriving at the campground with a pet that's not allowed or pulling in to find the pool out of service. Calling ahead is another way to avoid surprises and guarantee the campground offers everything you're seeking. It will also help you understand the campground's exact location, which can be difficult to determine via online maps or GPS.
Choose the Right RV
Choosing the perfect RV is as difficult as choosing the perfect campground. Fortunately, our qualified RV representatives here at the PleasureLand RV Center can make finding your dream RV easy and stress-free.