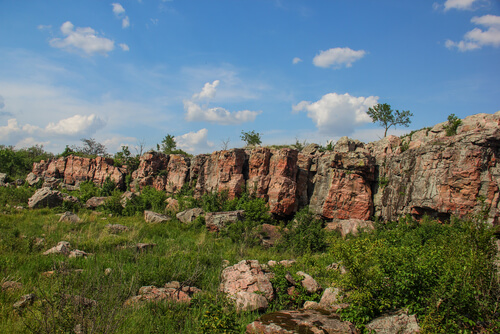 Pipestone National Monument is a sacred place to many American Indians, and the traditions from past generations continue in this part of Minnesota today. American Indians have quarried the red pipestone from the area of the Sacred Pipestone National Monument for generations, and it has been used to create precious pipes used in prayer. It is believed that the smoke from the pipes carries prayers to the Great Spirit. Visiting Pipestone National Monument is an experience of American Indian heritage that you don't want to miss.
Things to Do at the Park
Pipestone National Monument offers a range of indoor and outdoor activities to visitors. Start by checking out the visitor center, museum exhibits, bookstore, gift shop, cultural demonstrations, 22-minute film and interpretive programs. After learning the history of the area, enjoy the Circle Trail nature walk, which passes the breathtaking Winnewissa Falls, the native tallgrass prairie, Old Stone Face, pipestone quarries and other historical markers. The Three Maidens picnic area is an ideal place to rest and enjoy a meal after your hike.
Park Details
The entrance fee to visit Pipestone National Monument is $3 per person for anyone 16 years of age or older. American Indians enrolled in a tribe recognized by the U.S. government always receive free entry. The monument is open seven days a week and year round from 8 a.m. to 5 p.m.
Camping Near the Monument
The Pipestone National Monument is located in Pipestone, Minnesota, and although there are no campsites at the monument proper, there are plenty nearby. The Pipestone RV Campground is located directly across from the park's entrance, and the Split Rock Creek State Park is just 6 miles away in Ihlen, Minn. Enjoy your visit to the park, then relax in your RV amidst the gorgeous scenery of Pipestone.
Visit PleasureLand RV Center
Before you head out on any road trip this spring, it's important to get your RV checked over by a technician to help prevent any mechanical mishaps. Stop by PleasureLand RV Center to schedule some service or to tour some new motorhomes.