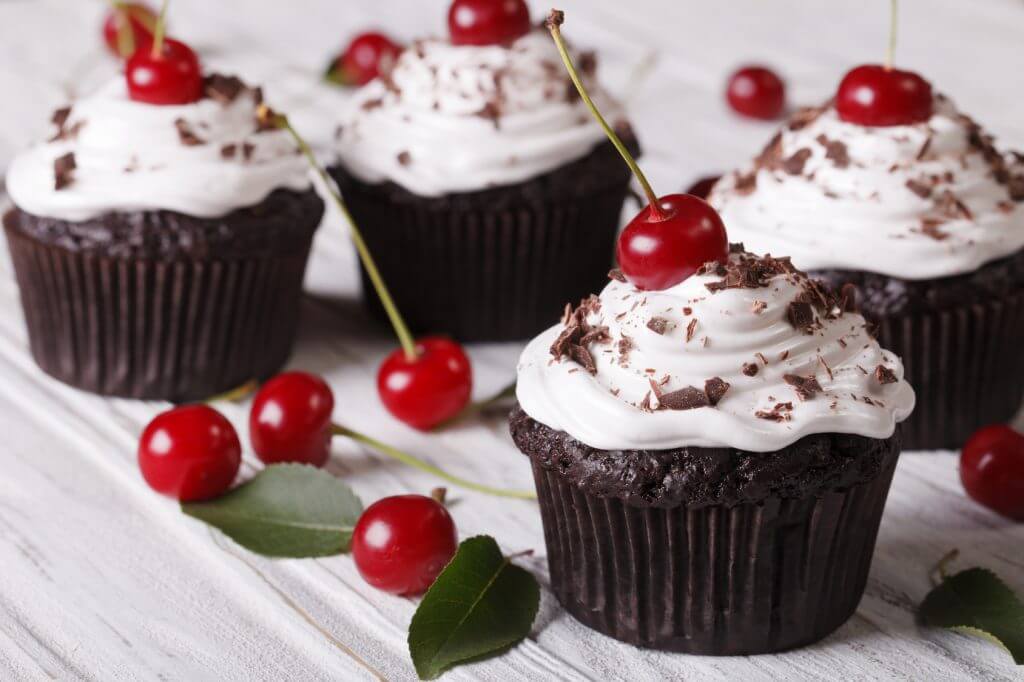 February is National Cherry Month, and there's no better way to celebrate than by preparing a fresh and delicious cherry dessert in the comfort of your RV. These rich and fruity chocolate cherry cupcakes are so tasty, you may want to bake two batches.
Chocolate Cherry Cupcakes
What you'll need for 1 dozen cupcakes:
3/4 cup cake flour
3/4 cup whole-wheat pastry flour
1 1/2 teaspoons baking powder
1/2 teaspoon baking soda
1/2 cup unsweetened cocoa powder
3/4 cup granulated sugar
1/2 teaspoon salt
1 large egg
1/4 cup canola oil
1 teaspoon vanilla extract
1 1/2 cups chopped pitted fresh cherries (plus 12 cherries for garnish)
Cream cheese frosting
Preparation instructions:
Preheat your oven to 350 degrees. Line a 12-cup muffin pan with paper liners.
Whisk the cake flour, whole-wheat flour, baking soda, cocoa, baking powder and salt together in a medium bowl.
Beat the granulated sugar and oil together in a separate large mixing bowl with an electric mixer. Beat the egg and vanilla into the mixture until combined.
Turn the mixer to low and alternately mix in the flour mixture and buttermilk. Scrape the sides of the bowl as needed until the mixture is combined.
Fold the cherries into the mixture, then divide the batter into the cupcake pan.
Bake the cupcakes for 22 to 26 minutes or until a toothpick can be inserted into the center and come out clean. Transfer the cupcakes to a wire rack and let them cool.
Once cool, frost each cupcake with the cream cheese frosting. Top with a fresh cherry before serving.
Visit PleasureLand RV Center
Whether you're searching for a travel trailer with a large kitchen or a truck camper to help you travel more in 2017, you can always find your dream RV at PleasureLand RV Center.