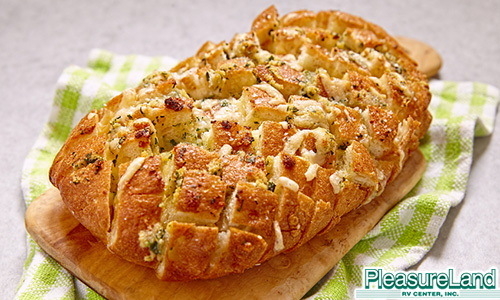 When the weather starts to cool, there's nothing like cozying up inside your warm RV at night and enjoying some hearty comfort food with your family. Try this unconventional recipe that may just become your new favorite meal.
Cheesy Sausage Bread
This one sounds a bit strange, but it's worth it. Warm, filling, and savory, everyone will want to go back for seconds. The recipe yields two loaves for upwards of sixteen servings, so you and your family can go back for seconds!
Ingredients
8

ounces bulk Italian sausage

1/4

cup finely

chopped onion

3 1/4

cups

all-purpose flour

1

package active dry yeast

2

teaspoons dried Italian seasoning, crushed

1

cup milk

1/3

cup butter

1/4

cup sugar

3/4

teaspoon salt

1

egg

1 1/2

cups shredded fontina cheese (6 ounces)

1 1/2

cups

shredded mozzarella cheese

(6 ounces)

1/2

cup finely

shredded Parmesan cheese

(2 ounces)

1

cup basil pesto
Directions
In a large skillet cook sausage and onion over medium-high heat until meat is brown, using a wooden spoon to break up meat as it cooks. Drain off fat. Cover and refrigerate sausage mixture until called for.
In a large mixing bowl, stir together 1 1/4 cups of the flour, the yeast, and Italian seasoning. In a medium saucepan, heat and stir milk, butter, sugar, and salt until warm (120 degrees F to 130 degrees F) and butter almost melts. Add milk mixture to flour mixture; add egg. Beat with an electric mixer on low to medium speed for 30 seconds, scraping sides of bowl constantly. Beat on high speed for 3 minutes. Using a wooden spoon, stir in as much of the remaining flour as you can.
Turn dough out onto a lightly floured surface. Knead in enough of the remaining flour to make a moderately stiff dough that is smooth and elastic (about seven minutes). Shape dough into a ball and place in a lightly greased bowl, turning once to grease surface of dough. Cover and let rise in a warm place until double in size (about 1 hour).
Punch dough down. Turn out onto a lightly floured surface. Divide dough in thirds. Cover and let rest for 10 minutes. Meanwhile, preheat oven to 350 degrees F. Line two 9x5x3-inch loaf pans with parchment paper; set aside. In a medium bowl combine sausage mixture, fontina cheese, mozzarella cheese, and Parmesan cheese; set aside.
Roll each portion of dough into a 30-inch-long rope. Cut ropes into 1-inch pieces. Divide one-third of the pieces between the prepared loaf pans. Divide one-third of the cheese mixture between pans. Repeat layers two more times.
Bake for 35 to 40 minutes or until golden. Cool in pans on wire racks for 5 minutes. Remove loaves from pans; peel off parchment paper. Serve warm with pesto.
Visit PleasureLand RV Center
Visit PleasureLand RV Center for RV sales, service, parts, and accessories. Let us know if you tried this recipe when you visit or share your favorite fall comfort food in the comments below!