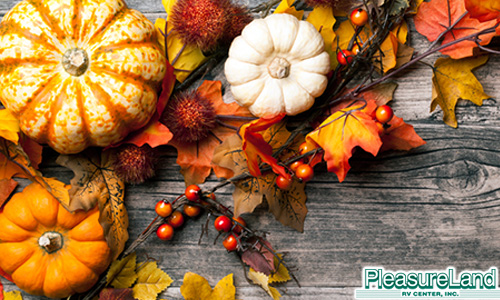 Decorating your home helps to get both residents and visitors into the spirit of the season. Your RV is no exception. Fall is a ripe season for decorating because it possesses an easily recognizable color scheme, identifiable iconography, and many associated symbols. With the proper use of props, colors, and patterns, your RV will scream autumn in no time.
Dress for the season.
Dress your space, that is. Proper use of color is the first and best tool in your arsenal for decorating. Fall colors include deep reds, burnt orange, golden yellow, and earthy browns. A good strategy is to use those browns as a neutral and to use reds, oranges, and yellows as pops of accent.
Make use of icons and symbols
Fall has many associated symbols and icons. The leaf, the pumpkin, the owl… these and many others are quickly identified with autumn. The use of such symbols will help to further establish your theme.
Decorating isn't just visual.
While decor is primarily visual, it's not only visual. You can enhance and reinforce your decor with aromas. When your RV isn't on the move, you can light scented candles with the smells of the season, like pumpkin pie, apple cider, even leaves. You can also use a potpourri mix that's suitable for the season.
Use interchangeable elements.
This means that you ought to use decorating items that are easily switched out and stored. Things like pillow shams, curtains, wreaths… anything that can be switched out when the next season rolls around. Try to avoid anything that's too bulky or large. After all, you're traveling in an RV.
Visit PleasureLand RV Center
Visit PleasureLand RV Center in Minnesota for RV sales, service, parts, or accessories. If you drop in on us at PleasureLand RV Center and you've got some fall decor going on, we'd love to see it!