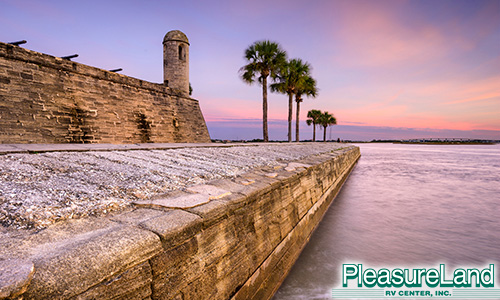 St. Augustine, Florida, is a popular RV destination among snowbirds and summer beach-goers. However, you may be wondering if it's the right destination for you. This review of the historic Florida city, and its picture-perfect beaches, will help you determine if you should fire up your RV and cruise down to the Sunshine State.
Outdoor Recreation
Many RV enthusiasts choose their destinations based on the number of outdoor activities that can be enjoyed there. St. Augustine offers something for everyone, ranging from acclaimed golf courses to state parks, marinas and beaches. Whether you're into horseback riding, fishing, hiking, boating, biking or kayaking, you can enjoy it all in this seaside Florida city.
History
St. Augustine offers a different culture than many other Florida towns. Instead of relying entirely on its beaches for tourism, the city is home to an array of tourist attractions, including history museums, Spanish colonial architecture, ancient homes and more. The city claims to be the oldest in the United States, and the pristine Castillo de San Marcos 17th-century fortress allows visitors to travel back in time while overlooking the picture-perfect St. Augustine Inlet.
The Beaches
Despite its incredible history and number of available activities, St. Augustine is most famous for its white sand beaches and turquoise ocean waters. Instead of offering one beach for visitors to cram, St. Augustine allows beachcombers to enjoy more space at several nearby beach strands. Vilano Beach, South Ponte Vedra Beach, Anastasia State Park, St. Augustine Beach and Butler Beach are just a few of the many that can be explored by visitors.
St. Augustine Camping
St. Augustine is home to a number of RV parks that make camping close to the action easy; however, these parks can get extremely crowded in the busy summer and winter months.
St. Augustine receives a 4 out of 5 score for its history, beaches, crowds and all of the other features that make this area of Florida so special.
Start preparing for your summer and winter getaways today right here at the PleasureLand RV Centers throughout Minnesota.