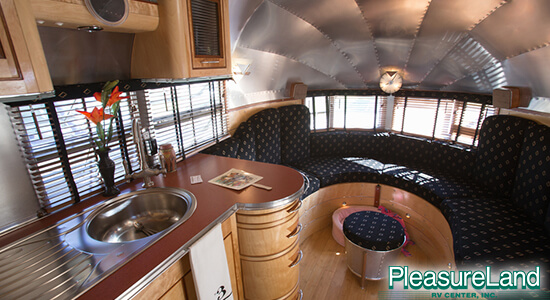 Whether you've just purchased a used RV or have been traveling in the same trusty, old RV for years, it's likely the interior of your motorhome or travel trailer could use a few upgrades. From buying a few simple decor items to tearing out old carpeting, these RV upgrade ideas are ones that'll give your home on wheels a fresh new look.
Revamp Your Bedroom
Your RV's bedroom is where you relax after a long day on the road, and an outdated mattress and bedding may be cutting into your comfort. Don't be afraid to swap your old RV mattress for one you find more comfortable. If you can't change your mattress, try placing a memory foam mattress topper on your existing one.
Swapping musty old RV bedding for new sheets, pillows and a comforter will also make you feel like you have a brand-new bedroom, but it'll cost you less than $200.
Upgrade Your Shower
RV showers can seem less than satisfying when you're living life on the road. Swap the cheap shower head that came standard in your RV for a new one that will amplify your water pressure and make that cramped space feel a bit more luxurious.
Purchase new rugs, towels and decor for your bathroom, and you'll be surprised how new it feels.
Get Rid of Old Flooring
You're not stuck with the flooring that came standard in your RV. Removing old carpet and replacing it with new carpet or laminate flooring is easy to do, and it can completely change the way the interior of your RV feels. The small size of the interior of your RV makes it easy to find cheap "remnants" of carpet and laminate flooring that will fit snuggly into your home away from home.
Upgrade Your RV at PleasureLand
Here at the PleasureLand RV Center, our certified RV technicians are experts at helping you upgrade your RV. Stop in with your ideas or concerns, and we'll help you turn your old RV into your dream home on wheels.