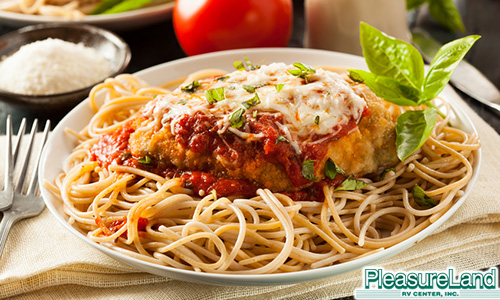 September is National Chicken Month. Chicken not only tastes great but it's also good for you, too. It helps to build muscles, keep your bones healthy, and relieves stress. Here are some tasty recipes to get you cooking in your PleasureLand RV.
Ginger Chicken Hawaiian Stew
1 tablespoon sesame oil
1 pound chicken breast, cut into 1-inch pieces
1 3-inch piece fresh ginger, peeled and minced
4 garlic cloves, minced
1 can reduced-sodium chicken broth
1 ½ cups of water
2 tablespoons soy sauce
1 tablespoon Sriracha
2 cups frozen, chopped mustard greens
In a Dutch oven, heat oil over medium-high temperature. Add the chicken and cook thoroughly, about six minutes, stirring occasionally. Transfer to plate using tongs. Add garlic and ginger to the Dutch oven and cook for 5-10 seconds. Then, add broth and water and increase the temperature to high. Bring to a rapid boil for 5 minutes, uncovered. Next, add mustard greens, soy sauce, and sriracha. Cook for three minutes. Return chicken and cook for another four minutes. Remove from heat and serve.
Easy Parmesan Chicken
3 boneless, skinless chicken breast, trimmed
1 cup panko bread crumbs
2 tablespoons fresh parmesan cheese
3 tablespoons extra virgin olive oil, divided
1 medium onion, minced
3 garlic cloves, minced
1 can no-salt crushed tomatoes
1 tablespoon Italian seasoning
1 teaspoon salt
1 cup mozzarella cheese, shredded
Preheat the oven broiler on high. Slice each chicken breast in half and place between sheets of plastic wrap. Pound it out with a cooking mallet until 1/4 inch thickness. In a bowl, combine parmesan cheese, bread crumbs and 1 tablespoon of oil and set aside. Sprinkle the chicken breasts with black pepper. In a large, ovenproof skillet, heat 2 tablespoons of oil over medium-high heat. Cook the chicken, half at a time, for three minutes on each side. Transfer to a plate when cooked. Next, add garlic and onion to the pan and cook until softened. Remove the pan from heat and pour in crushed tomatoes, Italian seasoning, salt and a dash of pepper. Return to medium heat and add chicken. Cook for three minutes, turning chicken to coat in sauce. Sprinkle mozzarella cheese over each piece of chicken and top with bread crumb mixture. Broil for one minute or until cheese is melted.
Enjoy these delicious recipes fromPleasureLand RV Center!