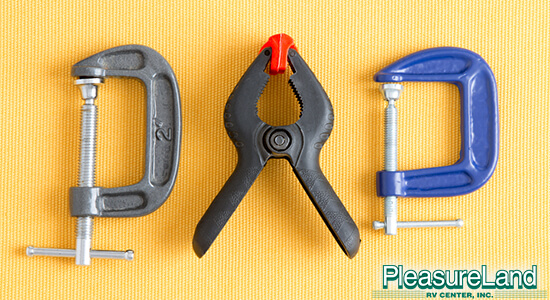 Instead of picking up a typical Father's Day gift, get your dad something for the RV. If your dad doesn't have an RV you might consider getting an RV for him for his special day. Now that would be the ultimate gift, especially for a dad who loves to hike, fish or hunt.
Find the Perfect Accessories
Stop by Pleasureland RV to pick up accessories including 12-volt accessories such as a coffee maker, power inverter, heated blanket, 7-liter cooler, portable stove or ceramic heater fan. These items all run o 12 volts, which means you plug them into a cigarette lighter. They're perfect for highway stops or dry camping overnight on the way to a destination.
Find the Perfect RV
Whether your dad would prefer a motorized RV, fifth wheel, toy hauler, travel trailer or even a camper that slides onto a pickup truck, we have something for every dad. Choose from brand new or pre-owned for several brands and models. Find an RV that sleeps just two or something that sleeps up to 10 people. If your dad loves or needs a ton of space, find an RV with at least one slide – some have up to four slides.
If your father has a motorcycle, ATV, UTV, snowmobile or other "toy" he would like to take camping, a toy hauler might be in order. Depending on the size of the garage area, you can fit two bikes or at least two ATVs in it. Most toy haulers also have extra bunks for friends or family.
If your dad prefers the lap of luxury, then choose a travel trailer, fifth wheel or motorized RV with luxury features.
You can even search for RVs by price. Visit our web site, then click "Specials." Choose your price range from the left menu. If you know you want to give your dad a brand new RV for Father's Day, click "New," then search by brand, price, manufacturer, type and location.
Visit Pleasureland RV
Stop by Pleasureland RV to pick up any accessories or a new RV for your dad for Father's Day.