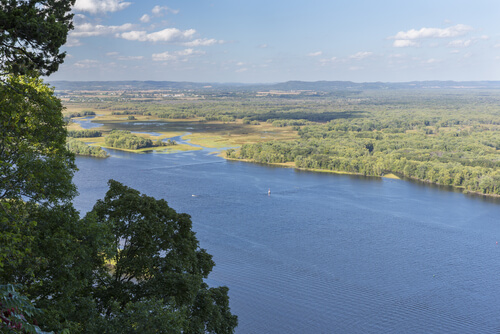 Great River Bluffs State Park is located in the Blufflands Landscape Region. This landscape features half-dome bluffs with sheer rock cliffs, steep valley walls, and rolling uplands. The park includes a diversity of plant communities including maple-basswood forests, old hickory, pines, goat prairies, and old fields. The King's Bluff trail offers a breathtaking view of the Mississippi River Valley. Bring your binoculars; the river valley is a major flyway for waterfowl, eagles, and hawks.
You can find ample camping opportunities at the park, both RV and tent, as well as fishing, hiking, and other outdoor activities.
For wildlife lovers, the park attracts more than 35 species of mammals, 17 species of reptiles and amphibians, and well over 100 species of birds. Rabbits, mice, and ground squirrels are common in the patches of prairie in the park. Predators of these mammals include red-tailed hawks, great horned owls, and red foxes. The hardwood forest provides habitat for opossums, skunks, Indigo buntings, ruffed grouse, and wild turkeys. In the winter, visitors report seeing bald eagles. The prairie draws uncommon species of wildlife: a lizard, the six-lined racer; and a prairie bird, the bobolink.
The park is 2,786 acres in size and receives over 80,000 annual visitors.
Visit PleasureLand RV Center
Stop by PleasureLand RV Center this summer before you hit the road for Great River Bluffs State Park or any other destination in Minnesota or beyond. Whether you need to shop for a new motorhome to take you to all of your favorite summer vacation spots or have an RV already and need it to be checked out before you embark, PleasureLand RV Center can help.