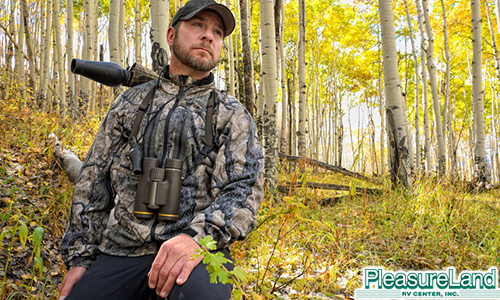 If you're an avid hunter, we have news that you probably know, but that you'll nonetheless love to hear: hunting season is here! Beginning September 17th in Minnesota, you'll be able to head out and hunt your favorite game.
So what game is open season beginning September 17th?
Deer Hunting – Archery (until December 31)
Ruffed Grouse (until January 1)
Spruce Grouse (until January 1)
Sharptailed Grouse (until November 30)
Hungarian Partridge (until January 1)
Rabbits (until February 28)
Squirrels (until February 28)
What You Need in Order to Hunt on September 17th
You'll need a license for what you plan to hunt; a full list can be found here. Current regulations can be found here.
There's more game open to hunt on September 24th:
Woodcock (until November 7)
Prairie Chicken (until October 2)
For later dates, refer to this list.
Hunting is Better with an RV
Hunting is better if you're in an RV. You can setup in a good spot, go spend the day hunting, and then head back to your RV for a convenient place to process your game and spend the night. That way, you don't have to worry about getting back home after a long day. If you're interested in an RV, come shop PleasureLand RV Center's inventory today.