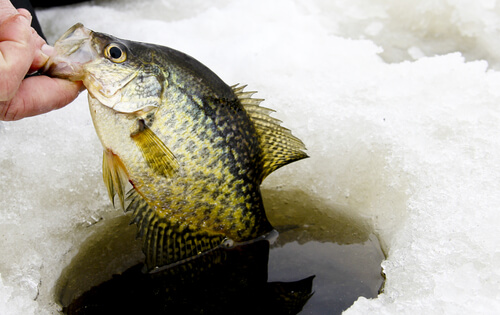 RV travel isn't just reserved for the summer months. In fact, winter activities are made even more enjoyable with the RV lifestyle. Ice fishing is one of those activities. Once you learn the basics of ice fishing, the sport will quickly become one of your favorite features of winter. The following simple ice fishing tips will help you get started, so you can enjoy the RV lifestyle even when the weather is cold and the lakes are frozen.
Use Live Bait
Live bait is an essential part of ice fishing. Whether you're dead sticking, using a bobber or jigging, live bait is the most effective way to fish. Start by jigging larger lures roughly a foot above the bottom to catch the more aggressive fish. If the fish can be seen but not caught, opt for a smaller jig.
Start with Smaller Lakes
Starting with smaller lakes at the beginning of season will help you fish more often, and ultimately become a better ice fisherman. Smaller lakes freeze more quickly, which means you can be on the ice earlier in winter.
Later in the season, move to the larger lakes, which have more oxygen. Fish are more active there.
The Movement of Fish
One of the most important parts of ice fishing is understanding where fish will be and when. In shallow lakes, fish tend to move shallower later in the season. In larger, deeper lakes, fish migrate to where food and cover can be found. They tend to stay deeper where the water is warmer. Fish become less active in the heart of winter, which means they're easier to catch when they're moving at the beginning and end of the season.
Shop for an RV at PleasureLand RV Center

Traveling in an RV from PleasureLand RV Center is an ideal way to travel from one ice fishing destination to another. Enjoy the comfort and convenience of a hot shower, comfortable seating area, television and plenty of sleeping space after a long day on the ice. Take your ice fishing to the next level by considering an ice house fishing trailer, which PleasureLand RV Center has a number of in stock.