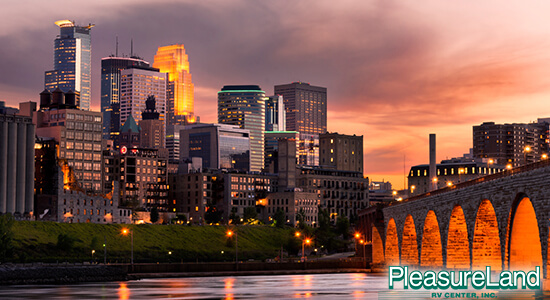 There's no denying that Minnesota is a chilly place to be in January, but Minnesotans know how to keep warm. The state is bustling with must-visit events ranging from concerts to museum exhibits and outdoor adventures. Fire up your RV and cruise over to the St. Paul area for these awesome January events.
January Artists at the Whitney Center
Each month presents new artists at St. Cloud's Whitney Center, and this month is shaping up to be one of the best yet. From Jan. 1 to 29, enjoy the art of Kao Lee Thao, Annette S. Lee, Alice Rueter, Flora Schinkle, Sandra Driscoll and Bob Rosenberg. The forms of art range from woodcarving to oil painting, watercolor, native skywatcher art and more. The Whitney Center is located at 1527 Northway Drive in St. Cloud.
Elton Songs: The Deep Tracks of Elton John and Bernie Taupin
Elton John fans shouldn't be anywhere other than Pioneer Place on Fifth in St. Cloud on Jan. 15 and 16. Experience Elton John's most influential period, from 1970 to 1976, led by Mick Sterling and Peter Guertin. The 11-piece band with them will perform a number of Elton John's greatest hits and most influential tunes.
Snowshoeing to the Stars
Cruise over to Onamia, Minn., to enjoy an evening under the stars, in the wilderness and with your snowshoes strapped to your feet. This snowshoe trek to discover the stars of the winter sky will take place on Jan. 9, from 7 p.m. to 8:30 p.m., at the Mille Lacs Kathio State Park Campground. Registration is required and the group will be limited to 25 people to provide a more personal night sky experience.
Month-Long Sales at the PleasureLand RV Center
We're kicking off 2016 with some of the deepest RV discounts in the industry. Stop in and see us at our PleasureLand RV Center locations in St. Cloud, Ramsey, Brainerd and Long Prairie to find unbelievable deals on new and used RVs.