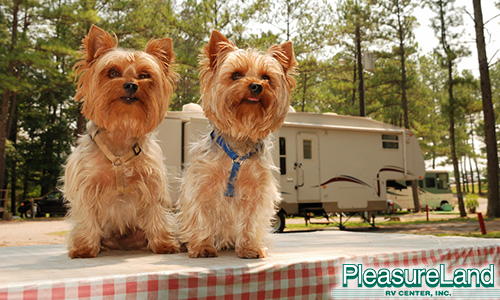 Summer is now in full swing, and temperatures across the country are rising. Hot summer temperatures can be far more dangerous for your pets than they can for you, so it's important to keep them cool when you start to feel the heat. Ensure your pets are as comfortable as you are this July with these simple tips for keeping them cool.
Adjust Your Outdoor Time
If you're used to walking your pup in the afternoon, you may need to change your schedule. Consider walking early in the morning and late at night to avoid the hottest part of the day.
Follow the Signs
Unfortunately, dogs can't talk, but they can give you a good idea of if they're overheating or not. If you're out for a hike, and your dog keeps searching for water or trying to lay in the shade, it's time to go home. These are both signs that your dog is starting to overheat.
Feel the Air for Yourself
The bottom line is that if it's too hot outside for you, it's too hot for your pet. If you're going to let your pet hang out in the yard, see if you're able to sit outside for an extended amount of time first. If you're overheating, your dog will be too.
Use Room-Temperature Water
If you see your pet overheating, you may run for an ice pack. Instead, cool him or her down with room-temperature water and a fan. Cold water and ice packs can cause the blood vessels to constrict, making it more difficult to lose the heat.
Travel in Comfort
Keep yourself and your pets cool this summer in the comfort of a new RV from the PleasureLand RV Center. Stop in and see us in St. Cloud, Ramsey, Brainerd or Long Prairie to shop our selection of the industry's latest and greatest RVs today.